CanAssist seeks testers for its new Caregiver Intercom for seniors
Latest News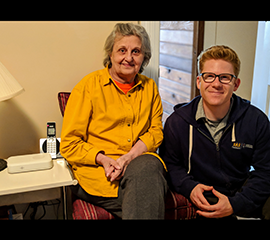 October 19, 2018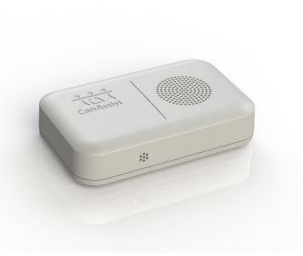 CanAssist is looking for family members of vulnerable seniors in Greater Victoria to test and provide feedback on its new Caregiver Intercom device.
The Caregiver Intercom provides an easy way for families to connect directly through an intercom system with seniors who have difficulty using a standard phone. The device requires a landline phone and a power outlet – no internet connection is needed. Once the device has been installed, select caregivers use a passcode when calling the senior's home phone. The caregiver's call is able to connect to the system, allowing two-way, "out loud" communication through the intercom, bypassing the need for the senior to pick up the phone.
Before a caregiver begins talking on the intercom, a chime notifies the senior that someone will be speaking to them soon.
Intercom system assists communication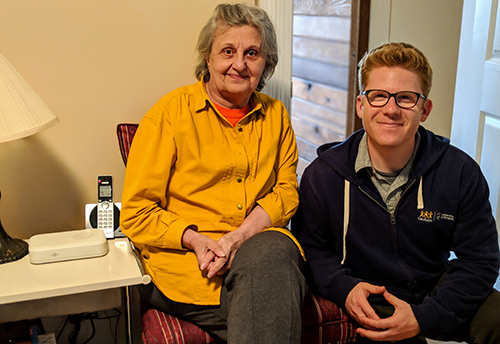 A home phone can present a challenge to seniors with cognitive decline, who may not recognize a ringing phone or have the ability to answer it. The Caregiver Intercom is designed to help alleviate this issue by allowing caregivers to connect directly to the senior, without requiring the senior's involvement. The intercom may also assist seniors with certain physical disabilities, such as those with vision loss or limited mobility. In addition, the device helps alleviate concerns about seniors who accidentally leave their phone off the hook, by informing caregivers that this has happened and bypassing the "busy signal" by connecting them directly to the intercom.
Volunteer to test the Caregiver Intercom
The Caregiver Intercom will be provided and installed at no cost to eligible families and can be kept for as long as it is useful. In return, CanAssist seeks feedback on the technology's effectiveness.
If you are interested in the Caregiver Intercom and believe it would benefit a senior you care for, please contact Megan Yon, CanAssist Client Relations Coordinator, at 250-853-3874 or myon@uvic.ca
Click here to learn more about more about testing opportunities and the Caregiver Intercom.
Go to Top