CanAssist technology helps guitarist play after long break
Latest News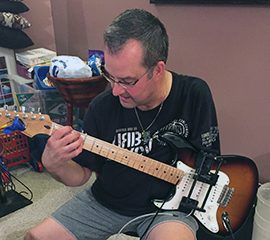 July 30, 2018
When Gerard's left arm was amputated 30 years ago, he never thought "in a million years" that he'd play the guitar again. However, with CanAssist's help, Gerard recently returned to his guitarist roots.
Earlier in his life, Gerard played guitar in high school band and later in pubs and clubs. He says that prior to his arm amputation, "the guitar was like an extension of my soul."
In fall 2017, Gerard came across CanAssist's website and learned about the Guitar Strummer, a unique technology that had been developed for a previous client. Gerard applied to receive one as well.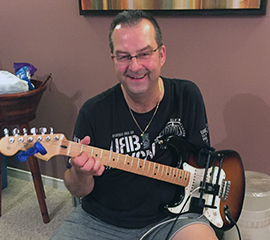 The Guitar Strummer allows a person to play the guitar using one hand and one foot instead of the usual two arms; users press a foot pedal to strum the guitar.
"The Strummer is simply amazing! Since I lost my cording hand instead of my strumming (hand), I never imagined I would one day teach myself all over again," Gerard said following the delivery of his new technology.
"There are no words to describe the feeling of playing a song after 30 years," he said. "There are no words that can say thank you enough. All I can say is it comes from the bottom of my heart."

CanAssist has created three guitar strummers so far and welcomes more requests. We are grateful to the individual donors who funded this project, without whom Gerard's new journey would not be possible.
Go to Top