Conference promotes inclusion for those with brain injury and PTSD
Latest News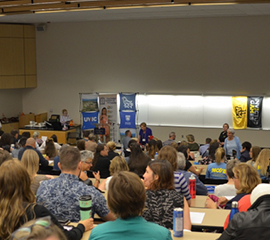 June 25, 2018
About 350 people turned out for this year's "Survive – Strive – Thrive" conference, which emphasized the themes such as compassion and self-care for people living with brain injury and post-traumatic stress disorder (PTSD).
The fifth annual conference, which attracted more attendees than in any previous year, was held June 20 at the University of Victoria. It was organized by the Cridge Centre for the Family and CanAssist.
Several speakers shared their personal experiences with brain injuries and PTSD.
Among them was Trevor Greene, who sustained a brain injury as a Canadian soldier during a peace mission in Afghanistan in 2006. He characterized brain injuries as "frustration" – frustration with formerly easy activities that now require concentration and practice. He underscored the critical role that compassionate families play in one's recovery and support.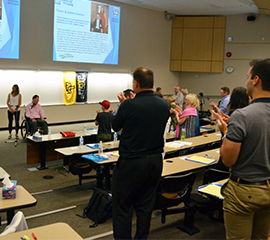 Elizabeth Steeves, a veteran member of Team Canada and flagbearer at the 2017 Invictus Games, remarked on health cycles, pointing out how mental health struggles can cause a decline in physical health and vice versa. "If you need to, reach out," she advised.
Steeves introduced her friend, Bruno Guevremont, a veteran Bell Let's Talk Ambassador and the 2016 Team Canada Invictus Games Captain. Guevremont said he found it difficult to accept his PTSD diagnosis and emphasized the importance of finding people who are understanding and supportive.
"Everybody needs a team," Guevremont said. "Nobody does anything alone."
Dr. Michael Sorsdahl, who works in private practice specializing in therapy for life transitions, reassuringly and compassionately presented on the topic of trauma. "Every situation creates transitions, which creates stressors," Sorsdahl said. He pointed out that trauma is "a normal reaction to an abnormal event."
The Survive – Strive – Thrive conference represents a collaboration between people of different backgrounds, occupations and talents. Despite those differences, the themes of compassion and self-care were underscored repeatedly during the event. RCMP Superintendent John Brewer closed the conference by speaking about his own experiences with PTSD. He said that "where we need to be" with PTSD is to think of it as "an injury: nothing more, nothing less" – again promoting compassion for ourselves and others as we move forward.
Go to Top