Zero-gravity arm technology helps Ethan with independence
Latest News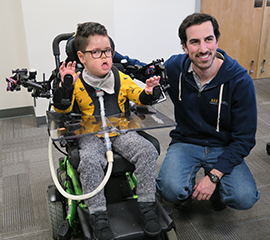 June 13, 2018
Three-year-old Ethan is a happy little boy who loves to read, play with toys, dance and make music. Ethan also has a rare disease called Nemaline Myopathy (NM), which causes severely low muscle tone and reduced muscle strength.

Ethan's occupational therapist at the Queen Alexandra Centre for Children's Health in Victoria contacted CanAssist to see if there was a way to help Ethan gain greater independence. CanAssist provided zero-gravity arm supports for Ethan, which help him to move his arms in multiple directions with minimal effort. The commercial pediatric-sized arm supports are similar to ones that CanAssist has customized for adult clients in the past. CanAssist provided custom mounting and forearm supports.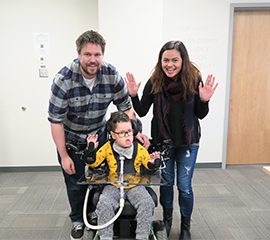 This technology gives Ethan more control over his movements and allows him to participate in a greater range of activities. Ethan was recently spotted on Twitter using the arm supports while playing musical instruments!

Ethan's family says that the arm supports "have opened up so many more activities for Ethan as he works towards more independence. The ability to move his arms more freely and play on his own is a true gift to our fiercely independent little boy. From the bottom of our hearts, thank you!"
Go to Top