Motorized Tablet Mount increases Paul's independence
Latest News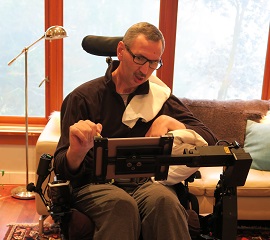 February 23, 2018
For many people, an iPad is something to surf the internet, play games, or take pictures with. To Paul Chandler, his iPad allows him to interact with the world around him. Paul experienced a stroke which left him non-verbal, so communicating with his family and friends takes place through his iPad, which offers a type-to-speech program that allows him to type sentences and speak what he wrote. While this restored a lot of his independence, the way Paul used his iPad had some room for improvement.
Paul previously used an iPad mount on his wheelchair, but this mount could be cumbersome and got in the way of other tasks, such as eating. Furthermore, the previous mount required someone to secure it to his chair when he wanted to speak, and remove it when he wanted to perform other tasks. This limited his independence and self-expression.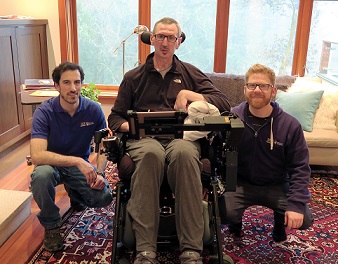 CanAssist worked with Paul and his wife Laurie to design a Motorized Tablet Mount, which securely attaches to the side of Paul's wheelchair with a quick-release mechanism. By using a staged-deployment system that is operated by a single button, Paul is able to position his iPad in front of him to speak with family, friends, and care providers.
CanAssist staff members Mike Lewis, Nathan Gartner, and Megan Yon recently travelled to Paul's home in Sooke, BC to deliver the technology.
"I think it gives me independence," Paul said. "Anytime I need my iPad out to communicate, there it is and I can set it up on my own."
Paul's wife Laurie echoes his sentiments: "It's working great! We appreciate how hard you worked on this for Paul and putting in the extra effort to come to our home for the final fitting."
CanAssist appreciates the support of a generous donor, who made the development and production of this device possible.
"Thanks to all of you for your design and execution of something I really needed," Paul said.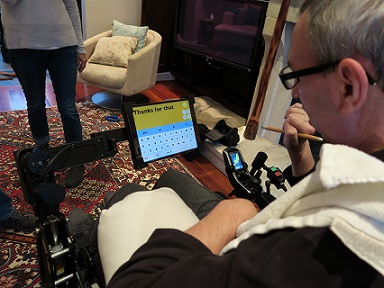 To learn more about the Motorized Tablet Mount, please visit the Technology section of the website.
Go to Top