Motorized Wheelchair Raincover keeps Jordan dry
Latest News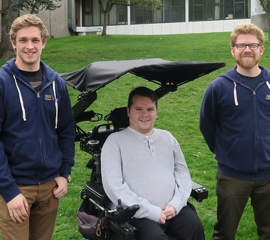 April 30, 2018
Getting to work on a rainy day is no longer an issue for Jordan, who received a unique motorized device that allows him to independently access a large, sturdy raincover.
The raincover mounts securely onto the support bracket of a wide variety of chairs. With the press of a single button, it automatically unfolds and positions itself to cover Jordan.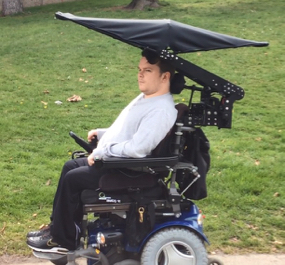 Jordan, who has Spinal Muscular Dystrophy, works in a professional environment in Vancouver which requires him to be neatly dressed; showing up to work soaking wet really isn't an option. The young man researched what was commercially available but was only able to find umbrella holders that require users to be able to open and close the holder. Jordan's disability prevents him from operating such a device and from using a standard umbrella. Moreover, an umbrella does not provide him with the best protection from the wind and rain.
After finding that none of the commercial options would work, Jordan submitted a technology request to CanAssist for an electric umbrella.
CanAssist worked with Jordan to design a device that would provide sufficient rain protection for a wheelchair user who is not physically able to open and hold a standard umbrella. The engineering team came up with a motorized raincover that uses the same staged-deployment system used by CanAssist's Motorized Tablet Mount.
Putting away the raincover is as simple as opening it – pressing another button automatically stows away the device on the back of Jordan's chair.
Now Jordan feels more confident about braving the elements and staying dry on his way to work.
CanAssist appreciates the support of a generous donor, the Norgaard Foundation, who made the development of this device possible.
To learn more about the Motorized Wheelchair Raincover, please visit the technology section of the website.
Go to Top