Operation Trackshoes connects people of all abilities in sports and friendship
Latest News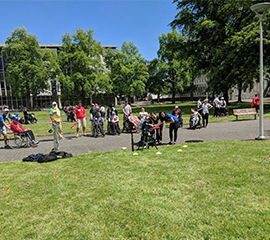 June 15, 2018
CanAssist was proud to participate in Operation Trackshoes, an annual provincial sports festival for people of all ages and abilities.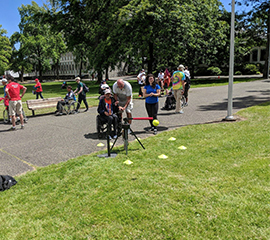 CanAssist has been taking part in Operation Trackshoes since 2009. The weekend-long event offers a full-length competitive track and field meet, a number of family-picnic-type games, swimming, softball, basketball, dances, concerts and banquets. The event, which has been running for 49 years, matches competitors with counsellors to build support and friendship.
On Saturday, June 9, CanAssist volunteers showcased the automated BatSwinger. The device, powered by compressed carbon dioxide, swings and hits balls from a tee. It is activated by pressing a button called an accessibility switch – an important consideration for many people with challenging disabilities.
More than three dozen people who use wheelchairs, among others, took part in the highly anticipated Wheelchair Relay event.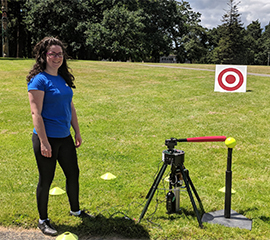 "It was wonderful to see people who use wheelchairs participating in several kinds of activities," said CanAssist's Emerald Pringle. "The day had a great spirit of friendly competition!"
CanAssist values the work that Operation Trackshoes does to improve inclusion in the community. Operation Trackshoes is already welcoming competitors and volunteer counsellors for next year's festival, which will be held at the University of Victoria on June 7-9, 2019. For more information, please visit the Operation Trackshoes website.

Go to Top