Teenager receives technology for improved computer access
Latest News
September 6, 2018
Dacian is a typical teenager, who loves using his computer and spends a lot of his spare time playing console games.
But the 13 year old, who has Duchene Muscular Dystrophy, faced daily challenges using a computer at home and middle school. His condition, which involves progressive muscle degeneration, means he isn't able to use a computer keyboard and mouse in the usual way, greatly limiting his ability to work on a computer, play games and communicate with friends.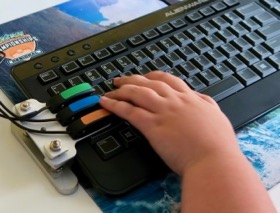 Dacian told CanAssist he wanted to play more games on his computer, but was unable to reach and press all of the keys required. He was hoping for a solution that would allow him to move the most important keyboard functions to more ergonomic positions that matched his limited movement.
So CanAssist provided a selection of tools that work together to allow Dacian to independently control the most important functions of the keyboard. These tools include an Accessible Gaming Controller, accessibility switches and mounting devices. The tools were chosen specifically to allow Dacian's family and care team to modify the system as his condition worsens.
"Before, using certain keys was very hard for me, but now, since I have the switches it is much easier for me to press the keys I need," Dacian told CanAssist recently. "It makes it easy for me to play my games. Thank you very much for helping me with my gaming."
Go to Top