TeenWork Canada recruiting participants for 2018
Latest News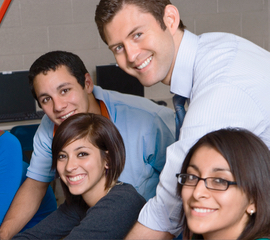 January 4, 2018
TeenWork is launching a new group-based, fast-paced program in early February and is currently seeking referrals for this year's cohort. The new program, called "TeenWork Canada," will initially support 10 youth in gaining part-time employment while they are still in high school. Participants will meet as a group with TeenWork staff twice a week for 15 weeks after school, and also receive some individual support.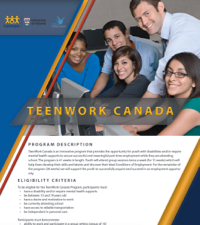 TeenWork is an innovative program, from CanAssist at the University of Victoria, which is designed to change the life path of youth with disabilities and/or mental health challenges by helping them find and retain part-time paid employment. TeenWork works with participants through self-awareness and skills-building workshops and activities, and provides job coaching on site at workplaces once a position is found.
To be eligible, youth must be 15 to 19 years old and have a disability and/or mental health challenge. They must have the desire and motivation to work, be currently attending school, have access to reliable transportation (e.g. bus or parents), and be independent in personal care.
Youth must demonstrate the ability to work and participate in a group setting, follow simple instructions and directions, and work independently in a classroom setting. They must be available and motivated to attend all sessions, and should be able to complete class work as required (with support as needed). See the TeenWork Canada brochure [PDF - 3.3 MB].
After a group-based skills development process, youth will find work that is a good fit, and then receive one-on-one on-site job coaching. The TeenWork Canada program has some time and completion requirements, and takes a faster paced and more group-based approach than CanAssist's original TeenWork program.
TeenWork will be holding information sessions at CanAssist for those interested in getting involved:
Thursday, Jan. 4, 5-5:45 p.m. or 5:45-6:30 p.m.
Friday, Jan. 5, 12-12:45 p.m. or 12:45-1:30 p.m.
Tuesday, Jan. 9, 5-5:45 p.m. or 5:45-6:30 p.m.
Please RSVP to the sessions if possible by emailing Alyssa Hindle at ahindle@uvic.ca.
CanAssist is located on UVic's campus in the Centre for Athletics, Recreation and Special Abilities (CARSA), at the corner of McKenzie Avenue and Gabriola Road. See our driving directions and parking instructions.
TeenWork Canada is also recruiting for a cohort in Vancouver led by CBI Consultants.
Go to Top