CanAssist delivers redesigned music therapy kit
Latest News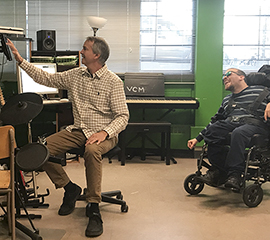 January 30, 2019
Music therapists at the Victoria Conservatory of Music recently received a refined version of CanAssist's Mobile Music Therapy Kit.
CanAssist's music kit enables participants to use iPod Touch devices – also called motion instruments – to generate music. Using CanAssist's Waveband app, the participant simply moves the iPod in any direction to simulate going up or down an instrument's scale. For participants with limited use of their hands, an iPod armband is secured to a part of the body over which they have some control.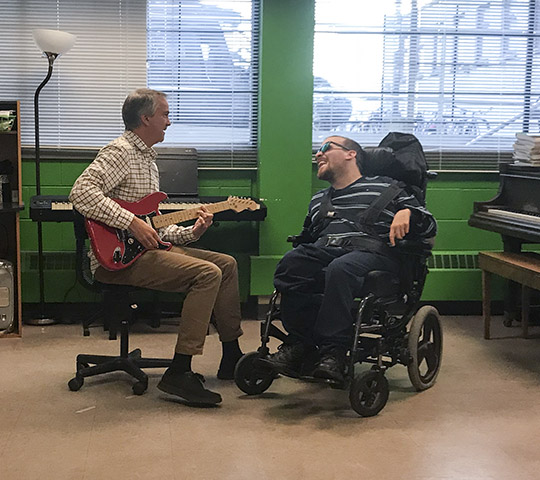 An earlier version of the kit was delivered to the Conservatory in 2016 and allowed individuals normally excluded from music therapy the ability to start creating music.Conservatory music therapist Allan Slade uses the music kit's iPad to assign an instrument to G's iPod (the young man pictured above). From the conductor's iPad, Slade remotely controls the instruments of all participants in a music session. A participant can play anything from a piano to a violin to a timpani.
The redesigned kit is much more compact and makes it even easier to start a music session. It includes built-in chargers, convenient storage for the iPods and built-in speakers for improved sound quality.
The redesigned kit also meant a redesign of CanAssist's Waveband app. More instruments, tuning customizations and background tracks are now included in the app to provide even more musical choices for music participants.
The redesign of the Mobile Music Therapy Kit and Waveband app were made possible with generous funding from the NRS Foundation through the Victoria Foundation. In fact, it was only with this initial funding that CanAssist has been able to include the music kit as part of another project funded by the BC Government. The project involves providing a suite of technologies to 32 Children Development Centres across BC, one of these being the music kit.

Go to Top