Vikes and CanAssist gear up for Inclusion Night
Latest News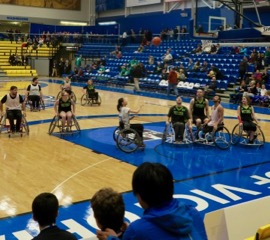 January 9, 2019
Vikes Athletics and Recreation is helping raise awareness of local organizations dedicated to inclusion at two basketball games this Saturday, Jan. 12.
Inclusion Night – now in its third year – takes place in UVic's CARSA building and gives local groups an opportunity to let the Victoria community know what they're all about. One of the groups providing information is CanAssist, which is dedicated to helping people with disabilities improve their quality of life through assistive technologies, employment services, and inclusive sport and recreation opportunities on UVic's campus.
CanAssist and other groups will set up tables in the CARSA building's lobby as well as the Performance Gym concourse, so that attendees can interact with them before and during the two games:
Women's Basketball: Vikes vs Fraser Valley Cascades at 5:00 p.m.
Men's Basketball: Vikes vs Fraser Valley Cascades at 7:00 p.m.
As in previous years, the games will feature messaging and videos about inclusive organizations and activities.
"It's fantastic to partner with Vikes to highlight the amazing services that are offered by CanAssist and many other inclusive organizations around the Victoria area," said Kyle Anderson, CanAssist's Inclusive Sport and Recreation Coordinator.
"This promises to be a wonderful event to increase awareness of disability issues and draw attention to various services that are present in the community."
Go to Vikes' website for tickets and other information.
Photo above: Scene from Inclusion Night 2017.
Go to Top