Kitchen Bar Code Scanner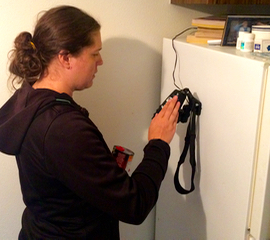 What is it?
Danielle, who has a vision impairment, had great difficulty identifying certain foods in her cupboards. While she was able to determine some items by touch, others proved very difficult, especially canned goods. This made it hard to prepare meals and to know what to include on grocery lists. CanAssist's solution involved modifying a commercial barcode scanner that reads aloud any item scanned.
Key features
recognizes barcodes in a large inventory and read out a description of the item
for products not in the inventory, users can program the device by entering their own spoken description of a food item
a mounting system holds the scanning head in a consistent position
a frame at the unit's base ensures food items are correctly aligned
Who is it for?
Clients with blindness or low vision who have to rely on caregivers to identify food items.
Go to Top