Liquid Meal Wheelchair Mount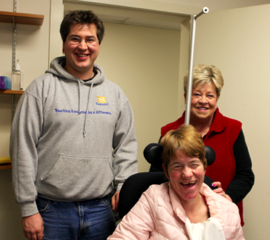 What is it?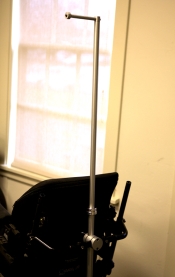 A stand that effectively holds a liquid meal pouch high above the user's wheelchair so liquid flows easily.


Key features
sturdy base mounts permanently to the back of a wheelchair
long extendable pole fits securely into the base
clamping lever makes the device easy to attach and remove.

Who is it for?
For people who use wheelchairs and require frequent liquid meals.
---
Nairne's story
Some time ago, Nairne required surgery that left her unable to eat food using her mouth. For what was expected to be a relatively short period, Nairne was fed through a tube that carries liquid meals directly to a small opening in her stomach.

In order for the liquid to reach her stomach, it has to travel from a height – in other words, it requires gravity's pull. For each meal, caregivers would hang a plastic pouch containing liquid nutrients onto a makeshift metal stand attached to Nairne's wheelchair. However, this stand was cumbersome, didn't extend high enough, and was used with the expectation that Nairne would eventually return to eating solid food.
When Nairne's parents realized that she would have to continue being fed by tube on a permanent basis, they approached CanAssist to design a more effective and easy-to-transport stand for her meal pouches. The resulting Liquid Meal Wheelchair Mount is built from strong but lightweight anodized aluminum.
It includes two key components: a sturdy base that is mounted permanently to the back of Nairne's wheelchair; and a long extendable pole that fits securely into this base with a clamping lever that makes it easy to attach and remove. Because the pole is long and difficult to transport, CanAssist provided Nairne with three identical poles that stay at each of the three locations where she spends the most time.
"The design for attaching the pole extension is not only unique, but it is also extremely durable and efficient to use," Ian McInnis, Nairne's father, wrote to CanAssist recently. "Thanks for all the time and attention you and the engineers put into this project."
Go to Top