Multi-item Clamp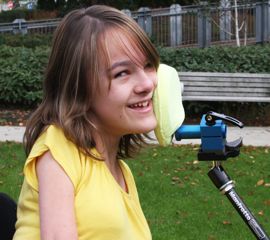 Grace Brulotte is a vivacious, fun-loving teenager who hopes to go to college someday and perhaps become a children's counsellor.
Although she has a very independent spirit, Grace lives with a condition that greatly limits her joint movement, including the ability to walk or raise her arms in front of herself. As a result, she requires assistance with many things she'd much rather do by herself.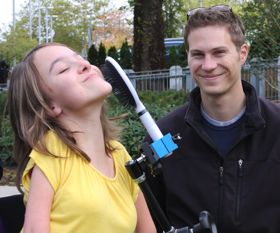 Not long ago, the teen's mother, Janice, approached CanAssist to see if we could help increase Grace's independence in everyday life.
In response, Brandon Fry, a member of our engineering team, developed a special clamp that gives Grace more freedom in performing daily tasks that many of us would consider mundane. The Multi-item Clamp securely grips several different items, including a hairbrush, a bowl for snacks, a sandwich holder, and a washcloth. It also has a quick-release mechanism to make changing the items easy for Grace's family.
"The clamp was made with a one-inch hole, while all its attachments have one-inch posts," explains Brandon Fry, who designed the device. "So, for example, the handle of the hairbrush is a one-inch cylinder and the bowl has a cylindrical post.
"It was easier to make one mount that everything else clamps onto instead of making a separate mount for every item."
The aluminum clamp sits at the end of an adjustable Manfrotto arm – commonly used in the film industry – which in turn attaches to Grace's wheelchair.
Soon after receiving the new device, Grace emailed us with an update on how it was working.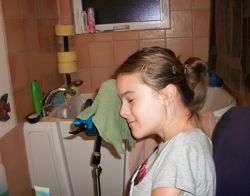 "I use the hairbrush holder after I get out of the bathtub and it works great!" she wrote. "Before I would have to put a facecloth on the side of my bathtub and bend down to wash my face. Now I use the facecloth holder every morning."
The sandwich holder and bowl are also very welcome since the family does a great deal of travelling by van. The family lives in distant Fernie, B.C., and makes regular journeys to the BC Children's Hospital in Vancouver.
"Now they can put food in the bowl or a sandwich in the holder while they're driving and Janice won't have to stop to feed Grace," says Brandon. "The holder allows her to eat something like a sandwich on her own, in her own time."
Go to CanAssist's Video Gallery to view more technology videos.


Go to Top