Portable Cup Holder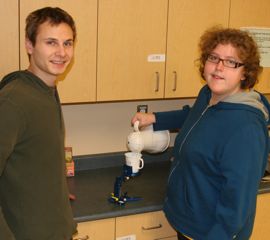 Rachael Buchanan is enthusiastic about working in the hospitality sector.
To gain experience, Rachael volunteered at the BC Cancer Agency's Vancouver Island Centre pushing a beverage cart and offering refreshments to waiting patients.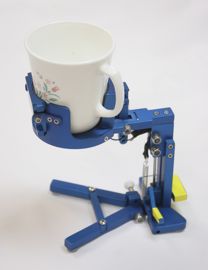 Rachael's vision is impaired and she has limited use of the left side of her body. The task of pouring coffee from a dispenser into a cup required the use of both hands – one to hold the cup steadily up to the dispenser and the other to press on the dispenser.
Because of Rachael's weakened left side, she was unable to fill the cup without spilling. Instead, a support worker would hold the cup for her as she pumped the dispenser.
However, at the age of nineteen, this arrangement was not ideal. Rachael wanted independence.
Rachael is an active member of her community and has not only volunteered with the BC Cancer Agency, but is also a regular volunteer at CanAssist. So CanAssist was thrilled when Rachael asked us to develop a cup holder for her – it was an opportunity to give back to a valued community member.
The portable cup holder was designed by Scott, a member of CanAssist's mechanical engineering team.
The easy-to-use device supports a variety of cup sizes at an appropriate height. Rachael places a cup into the cup-holder and then secures it by pushing a button. This, in turn, applies pressure to the cup and holds it firmly in place while Rachael pours hot coffee from a dispenser. To release the cup, she pushes another button. Then she can serve it to an appreciative (and impressed) customer.
At the end of the day, Rachael can easily fold up her portable cup holder. Scott designed it to be user-friendly and its compact size makes it easy to carry in a small purse.
"Being able to volunteer or work on her own is an important step towards independence for Rachael," says Scott (shown in the photo at the top of this page). "I wanted to make sure that the portable cup holder would enable her to become more self-reliant. Its small size means that she can take it anywhere and the bright yellow buttons make for easy visibility and use."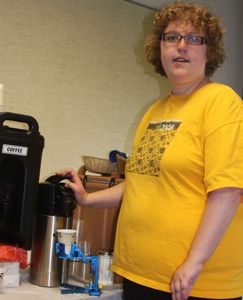 Rachael's portable cup holder is a vibrant blue, a colour she chose herself. She is thrilled both with the final product's cool colour and its ease of use. Rachael can now pour coffee from the dispenser with one hand, without making any spills.
Rachael, a natural hostess, has already put her portable cup holder to good use: she has assisted serving beverages at several CanAssist events.
"Thanks Scott for making this for me," Rachael wrote in a letter to CanAssist. "I can now pour drinks without spilling. Yeah!"
Armed with her portable cup holder and a new sense of independence, Rachael's goal is to find employment in Victoria's active service industry.

(This technology was delivered in January 2010.)
Go to Top