CanConnect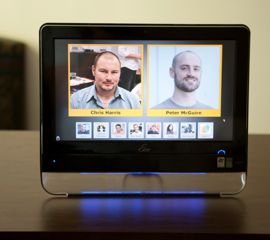 IMPORTANT NOTICE TO USERS:
Microsoft Corp. has advised CanAssist that as of Aug. 4, 2014, it will no longer support CanConnect. Unfortunately, this change is outside of CanAssist's control and means that CanConnect users will no longer be able to use the software. Our sincere apologies for any inconvenience this may cause. Those who would like to continue making Internet-based calls will now have to download the official Skype program at www.skype.com.



**********************************************************

What is it?
CanConnect is a highly simplified Skype interface that allows users to connect with family and friends through audio and video interaction. To use CanConnect, the user views a gallery of familiar faces on a touch-screen computer monitor, each of which represents a pre-determined user contact. The user simply touches one of the photos to automatically establish audio and video contact with that person. For those with limited mobility, the device can also be operated with an accessibility switch.
Key features
Highly simplified live video calling
Touch-screen or switch input
Text-to-speech mode available
Compatible with a variety of input devices
News update: Early in 2013, CanAssist announced a licensing agreement with Huset Venture in which the Danish not-for-profit organization can distribute CanConnect in Denmark. The deal allows Huset to provide the technology throughout Scandinavia in the future. Read the whole story...
---
Marion's story
In the fall of 2008, CanAssist was contacted by a Victoria woman named Ann whose elderly mother lives in a care facility hundreds of miles away.
Ann asked whether CanAssist could develop an easy-to-use system by which she and her mother could regularly communicate. Her mother, Marion, is a 92-year-old with dementia. The older woman's phone had to be taken away because she had been making too many unnecessary emergency calls. As a result, Marion no longer had a way to keep in regular contact with family members in Canada.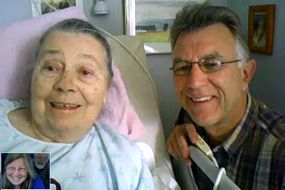 CanAssist's solution was to create a simple program based on Skype, a software application that lets people make free phone calls over the Internet. Our program, called CanConnect, takes Skype a step further by making the technology accessible to people who have never used computers, who are intimidated by them, or who are unable to use a regular mouse or keyboard. In addition, users enjoy both an audio and a visual connection with the person they contact.
To use CanConnect, a person views a gallery of photos, which are displayed on a computer screen. Usually, the gallery consists of a handful of photos of loved ones, pre-determined by the user or a caregiver. Using a touch-screen computer monitor, a person simply touches one of the images to automatically establish audio and video contact with the friend or relative of their choice.
If they prefer, clients can also make their selection using a variety of other input devices, such as an EMG headband, a webcam or an eyetracking system.
"It's something many people have thought about - the idea of making this type of communication easier for elderly people," says Leo Spalteholz, CanAssist's Software Manager. "But when I checked around, there just wasn't anything out there for them."
Leo points out that while video phones are commercially available for those who can't use a computer, these tend to be too complicated to operate for many people who are older or have special needs. Other sophisticated systems that are designed to monitor the elderly with cameras and two-way communications equipment are usually too elaborate for most people.
Meanwhile, CanConnect is a remarkably simple program that is easy to use and relatively straightforward to install.
When Ann and Marion first made contact using CanConnect, the older woman's face revealed a mixture of amazement and delight at being able to see and hear her daughter through a live connection.
"This is fantastically good," Ann said, after using the program. "She is so happy to see us and we are so happy to see her. Just seeing her is such a pleasure and such a relief."
CanAssist has provided the CanConnect program to a handful of clients and plans to distribute it more widely once it has been thoroughly tested. As well, a non-profit group in Denmark is using and testing CanConnect to help people in that country who have disabilities.
"This project is very special for all of our family and I hope for many, many families over time," said Ann.


Go to CanAssist's Video Gallery to view more technology videos.
Go to Top