Dynamic Keyboard
What is it?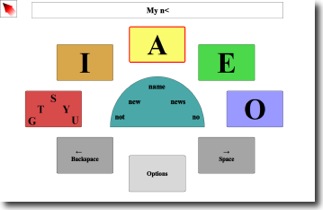 The Dynamic Keyboard is a computer program that allows users with manual dexterity limitations to operate a keyboard using a variety of input devices. The program displays predicted characters and words in one of six large boxes on the screen. When a box is selected, the characters or words inside that box are then redistributed amongst the boxes until the user narrows the choices down to one. As characters and words are chosen, they appear in a user-designated computer application such as an email program or word processor.
Key features:
Enables operation of a computer keyboard
Large, easy-to-hit buttons
Can be used with a variety of input devices
NOTE: the Dynamic Keyboard is a free program. Download it now.



Read a story about how Nairne is using this technology.
---
Nairne's story
Nairne is always up for a challenge. She's sharp-witted, computer savvy and loves to meet new people. So, when looking for someone to test our new Dynamic Keyboard program, it was clear that Nairne would be perfect for the job.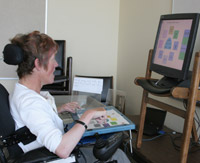 The Dynamic Keyboard is for people who would like to type on a computer but for various reasons may not able to use either a standard keyboard or a full onscreen one. During our months of testing, Nairne arrived promptly at CanAssist's lab each Monday, ready to work with our researchers on fine-tuning this unique typing program.
"My experience with the testing of the Dynamic Keyboard has been nothing but positive," says Nairne, who has cerebral palsy and was recommended to us by colleagues at the Garth Homer Society, where she spends time during the day.
"The Dynamic Keyboard has helped me to be able to decrease the amount of time it takes me to type an email or a project," she adds. "And I like how I can add words to the dictionary if they are not already in there."
When using the Dynamic Keyboard, clients see eight large letters and functions at a time on their computer screen. To make a selection from these eight groups, they can use a variety of input devices - from a regular mouse, touch-screen pad or joystick, to a trackball, IntelliKeys program (see photo below) or eye-tracking device. As a user selects various letters, they appear as text in a chosen application, such as email or a word processor.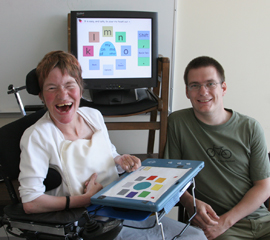 "There are lots of onscreen keyboards available," says Leo Spalteholz, CanAssist's Software Manager. "But the Dynamic Keyboard is designed for people who can't use them. They may have a vision issue, or it may be a matter of not having the control or fine motor skills to use commercial brands."
The Dynamic Keyboard has large, easy-to-hit buttons, and big, clear letters - features that are especially important for people using less accurate input devices, such as a head-operated mouse or eye-tracking system to control their computer.
As Nairne types, the Dynamic Keyboard tracks her vocabulary and typing pattern. In this way, the program can anticipate what she is trying to type, helping her to choose the right letters more quickly, thus minimizing the number of clicks she has to make and increasing her typing speed.
The Dynamic Keyboard is now a downloadable program, which is freely available to all.
"I have enjoyed being able to assist in the development of this project," says Nairne, who still comes to CanAssist to help out in any way she can. "I always feel like any input I provide is appreciated."
Go to Top