Flexible Cell Phone Mount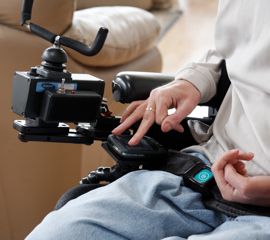 Like many successful businessmen, Murray Hindley depends on his cell phone.
Murray is an application technician with a branch of IBM and the recipient of several awards for overcoming adversities and returning to work, including the Queen's Golden Jubilee award. Murray works mainly from home using his HTC touch-screen cell phone along with a laptop computer. As a quadriplegic, Murray has limited dexterity. He uses a hands-free system to receive phone calls. However, dialing out presented difficulties.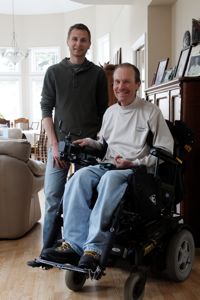 To place a call, Murray first had to remove his phone from its leather case and balance it on his knee or wheelchair to dial. Because the phone was not secure, it would often fall to the floor where he was unable to retrieve it.
After learning about CanAssist from a co-op student, Murray asked us to design a device that would help him to make calls more easily.
Scott, a member of CanAssist's engineering team, developed two prototypes made of aluminum, which were anchored securely to Murray's wheelchair. However, after a trial period, it was discovered that these were unsuitable for Murray because they got in his way when he pulled himself close to the table to use his laptop.
The CanAssist team quickly stepped up to the challenge. Scott designed a flexible, attachable arm for the cell phone mount. The system – known as a loc-line modular system – consists of stacked ball-in-socket joints and allows for a variety of movements.
"It was tricky to find the perfect mount because Murray has to be able to fit into tight spaces to reach his computer and have access to his wheelchair's joystick," says Scott. "A flexible mount allows Murray to easily maneuver and make adjustments."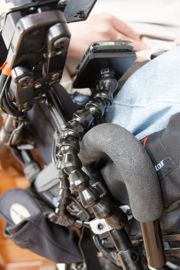 For added stability, the cell phone was attached to the mount with Velcro. As a result, Murray can dial his cell phone without fear of it falling and can also easily remove it for recharging or whenever necessary.
Murray can now take his phone anywhere, have a clear view of the screen, and make and receive calls with ease.
"The device you and your team have provided has made a world of difference for me," says Murray. "The old method I had was very cumbersome and difficult to use, with this new device it makes things easier to use and no potential of dropping the phone."
(This technology was delivered in April 2010.)
Go to Top