iPad Stand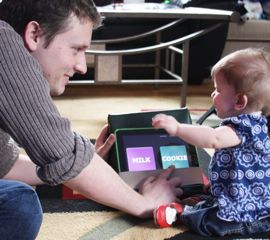 Elise Simard is a very happy, active 14-month-old who is only held back from interacting with the world by her inability to make sounds with her voice. But with loving parents, a supportive team of therapists, and new technology, she is now able to use Apple's iPad and its many speech applications to help her communicate with the world around her.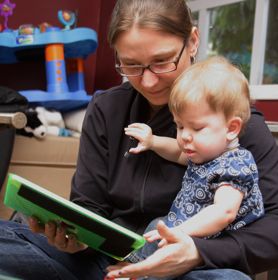 Elise, who was born with a condition called vocal fold paralysis, began using the iPad at an age when she lacked the manual dexterity and strength to hold it on her own. Her mom, Christy, had no luck finding something that could support the computer in places a toddler might use it – such as on the floor or in a highchair.
At the suggestion of Elise's speech and occupational therapists, CanAssist was asked to create something special for the little girl's needs.
Tim Cummings, of our mechanical engineering team, designed an iPad stand that was durable, soft, and easy to clean: in other words, baby-safe and baby-proof. The support is a triangular wedge made of foam blocks and a vinyl covering.
"I used materials that are commonly found in children's furniture," says Tim, who took into account the possibilities of drool, sticky hands and sudden movements. "It can be cleaned with soapy water, and the foam core has no sharp edges – it's as squishy as a couch cushion."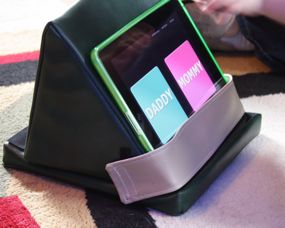 The stand is also light and easy to transfer around the house, but stable enough that it doesn't tip over, even when Elise pushes against it. Tim determined the appropriate angles for the stand using Elise's height and the angle that Christy usually held the iPad for her.
"The wedge has two usable angles," he says. "A forty-five-degree angle for when she is sitting up, and on the opposite side a steeper angle for use when she is lying down."
This is a good thing because, as speech therapist Karen Handford points out, her tummy is her favorite position. Keeping Elise happy and engaged is a benefit for Karen when she works with Elise.
"Yesterday Elise was getting a bit tired, so it was really helpful for me that I could re-engage her interest by quickly and easily re-positioning the device," she says.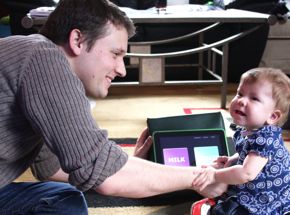 Still, it can be hard keeping Elise from pushing the application menus onscreen, as she loves interacting with the iPad. So that she wouldn't keep interrupting her own therapeutic exercises, Tim added another feature: a vinyl band held with Velcro that covers the bottom of the computer.
Judging from her smiles, Elise is happy with the new device, and so is her family and support team.
"We have had such huge success with the iPad and its stand. The stand has allowed her to use the iPad to a much fuller extent," Christy wrote to us recently. "Thank you so much for all the thought that has gone into it! You've truly helped our little miracle!"
(This technology was delivered in June 2011.)
Go to Top