Armrest Customization
Since a serious workplace accident and subsequent stroke left him with partial paralysis on the right side of his body, Michael Forrest has developed a passion for reading.
Michael's newfound enthusiasm for books meant spending long hours reading at his dining room table. He was using his left arm to turn the pages and hold the book, yet it was his right arm that was getting tired. The arm muscles on his right side don't support his shoulder in the socket – meaning that his arm is heavy at the joint, pulled by the weight of the arm itself.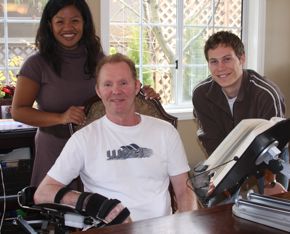 "Sitting and reading for long periods was very uncomfortable for him," says Tanya Switucka, CanAssist's client relations manager. "It was also counter-productive to the therapy he was doing to strengthen the shoulder area."
Michael's occupational therapist, Tricia, thought it would be beneficial if her client had something that would support his right arm. With the success of the Modified Lawn Mower that Michael received through the CanAssist-WorkSafeBC initiative, all were optimistic that a solution could be found. Brandon Fry, of CanAssist's mechanical engineering team, was selected to create an armrest for Michael along with an accompanying book holder.
The armrest is a four-bar mechanism made from aluminum that attaches to his chair, allowing him to read at his table or desk.
"The armrest puts upward pressure on Michael's shoulder joint, preventing it from pulling out, and preventing the accompanying pain," Brandon says.
The armrest also has a forearm support rest, which helps Michael to unclench and stretch his hand. The lateral mobility the device provides gives Michael a freedom of movement that he normally doesn't enjoy.
"I love it because it feels so much better having my shoulder in the position I am working on getting back," Michael says. "I use my armrest everyday!"
Go to CanAssist's Video Gallery to view more technology videos.
Go to Top