EMG Training for Prosthetic Arm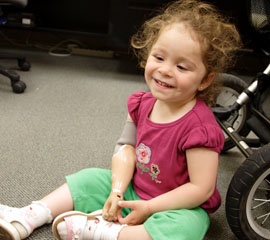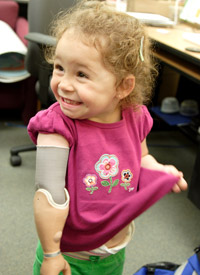 Two-year-old Marin, the little girl with the radiant smile, was born with a "transradial amputation," a condition in which her arm stopped growing below the elbow.
At first, Marin used a basic prosthesis. But after she turned two, she was ready to graduate to a myoelectric arm - a prosthesis that is bigger and includes a mechanical "hand" capable of holding onto things and releasing them.
This gripping action is made possible by sensors in the prosthesis that measure the electrical activity of muscle contractions in the stump of the amputated arm. When properly fitted with the prosthesis, the user can open and close the hand by contracting certain muscles at the end of their forearm.
Learning how to activate and control these muscles was what brought Marin, her parents and her occupational therapist to CanAssist.
"Before, she didn't realize that she had the power to use that arm," recalls Sunny Mahajan, CanAssist's Technical Coordinator. So Sunny set to work developing a system to help Marin learn to control these muscles, one that uses electromyography technology (EMG) and visual biofeedback.
First, Sunny fitted electrodes to the end of Marin's amputated arm. When she tensed the muscles in her stump, the electrical signals produced by their contractions sent a message to an EMG box, which in turn controlled a toy or a laptop computer.
"To start, I set up some training software and bought some Barney videos," Sunny explains. "If Marin made the correct muscles in her right arm contract, then the EMG box would pick up the signal, send a message to the computer, and the Barney show would play for five seconds. If she wanted to see more of the video, she had to contract those muscles again."
But all this took practice. At first, Marin engaged her whole body to try to activate the video. She gradually used fewer and fewer muscles in her body, until she could focus on the specific muscles that were required.
Even more fun was being able to activate electronic toys. With the electrodes still attached to her amputated arm, Sunny connected the EMG equipment to an electronic horse. By learning to contract those little-used muscles, Marin was thrilled to make the horse walk across a table all by herself.
Once Marin clearly understood that by using the muscles at the end of her amputated arm she could control her environment, Sunny replaced the toy with her new prosthesis, which he placed on a table. Using her newly acquired skill, Marin successfully opened and closed the prosthesis' mechanical hand by tensing the muscles in her upper arm.
"CanAssist's frequent visits to our home to work with Marin helped her to learn how to open and close her prosthetic hand on her own," says her mother, Chantelle. "It has been truly rewarding to watch her gain independence through the use of this technology."
Now it's up to the experts at Queen Alexandra Centre for Children's Health to fit Marin with her new prosthetic arm so its sensors are correctly aligned with the muscles in the stump of her arm. Then Marin will be on her way to making the most of her new arm and her new skill.
(This training was completed in 2009.)
Go to Top