Foot-Activated Noise Maker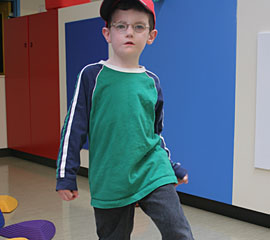 Whether or not we remember it, we all needed incentives when we learned how to walk. For some children, a little extra motivation is required.
Victoria physiotherapist Joan Glover approached CanAssist and requested a device that would help encourage her young clients at the Queen Alexandra Centre for Children's Health to take the proper footsteps.
The clients in question were children with developmental disabilities - mostly under six years old - who were having difficulty putting their feet in the correct place when walking.
"Sometimes we need to use something that really has pizzazz to motivate children," explains Joan.
After exploring devices already on the market, CanAssist researcher Eric Auer decided that it would be best to design something from scratch in order to meet the needs of Joan's clients. This meant creating a device that would be sensitive enough to detect the weight of a small child, and, at the same time, could be positioned according to the length of each child's stride.
Eric designed a device called the Amusing Footstep, a foot-shaped wooden object that is placed on the floor. The device plays pre-recorded sounds - such as music or funny noises - whenever it detects pressure from a child's foot.
At the Queen Alexandra Centre, Joan's young client, Keegan, was eager to use the device when he discovered it played a different sound each time his foot landed on target. Another young boy was delighted to hear a snippet of the soundtrack from Star Wars as he stepped on the device.
One of the features of the Amusing Footstep is that its playlist of sounds can be changed to suit the tastes of individual children.
Today, Joan still introduces the Amusing Footstep to some of her clients with motor problems.
"I bring out the footstep at times when a child really needs that extra motivation," she says. "It's an exciting thing for them."
(This technology was delivered in December 2004.)
Go to Top