Musical Slippers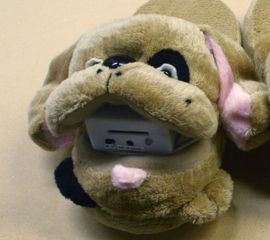 Sophie is a playful, curious eight-year-old who adores music, especially children's entertainer Raffi.
Born with Angelman Syndrome, the youngster has significant cognitive challenges and limited gross motor skills. Her parents came to CanAssist requesting a very specific motivational device that would help them promote her independence while making their mornings easier.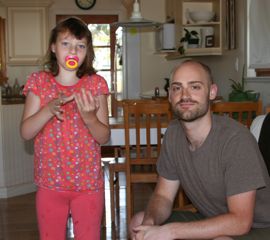 The girl's mother, Leyanne, explained that while Sophie had become quite independent in her morning routine – dressing herself, eating breakfast and brushing her own teeth – she did not want to put on her shoes before leaving the house. This often turned into a small battle of wills and frequently made the family late.
In hopes of overcoming this daily obstacle, Leyanne said she wanted to create a positive experience for Sophie each time she placed shoes on her feet. Leyanne suggested that we start with slippers as a fun way to train Sophie and then move to shoes after mastering these. Leyanne told us about Sophie's love of music, and wondered if we could somehow incorporate tunes as reward for putting on slippers.
"The idea was to find a pair of slippers that she really liked and then find a way to identify when her feet were in them," says Peter McGuire, of CanAssist's engineering team. "Once both her feet were securely in the slippers, they would play a little song for her."
Tanya Switucka, client relations coordinator at CanAssist, purchased a pair of fluffy dog slippers – dogs being Sophie's favourite animal.
Peter removed the stuffing and inserted a small plastic box with a circuit board and microprocessor inside each dog's head. Zippers were sewn into the dogs' mouths to keep the boxes secure. The next step was to add speakers. To do this, two tiny speakers were housed in table tennis balls and each was placed in an ear of one of the slippers.
"Speakers need to have a cavity or else they won't be loud enough," Peter explains. "So then we had stereo sound in one slipper."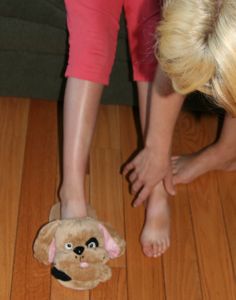 Fine copper wiring was carefully embedded into the slippers' toes and connected to the circuit boards. The copper mesh senses the presence of human touch or proximity and communicates the information to the microprocessors.
"Each of them has a tiny radio so they can talk to each other," says Peter. "That's how they know that both feet are in the slippers."
Finally, a four-gigabyte memory card was loaded with song clips and placed alongside the circuit board. Leyanne was supplied with software that lets her select songs, as well as their length and volume. Of course, lots of Raffi tunes were loaded onto the memory card.
On delivery day, Sophie was fascinated by the doggy slippers and amazed at their musical ability.
"Sophie had so much fun on delivery day," recalls Tanya. "She wanted her mom to try the slippers on too!"
(This technology was delivered in September 2009.)

Go to Top