Accessible Paper Shredder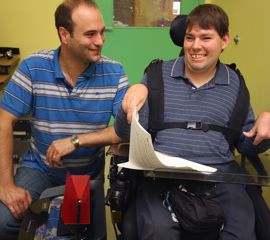 Paul Torrison is a young man with many interests. However, there is one activity that tops them all – shredding paper.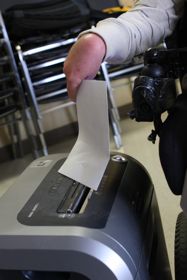 Paul attends the Frederick Ozanam Centre, which offers day programs for people with disabilities. At the centre, Paul is able to indulge in his favourite activity while at the same time providing a helpful service. He enjoys paper shredding so much that he can often be found happily sliding sheet after sheet into the shredder until closing time.
However, Paul was unable to go about his task without assistance. Paul has cerebral palsy and epilepsy. He has limited muscle control, as well as poor vision. Often Paul had difficulty inserting a piece of paper at the required angle into the shredder. As a result, the machine frequently malfunctioned and Ozanam Centre staff had to remain nearby to fix it.
Thankfully, the Ozanam Centre and CanAssist have been in contact for several years, so Ozanam staff knew who to ask to help Paul gain independence.
Mike Jackman, a member of CanAssist's mechanical engineering team, visited Paul at the centre to watch him work and assess his requirements.
After the visit, Mike designed a "hopper" – a funnel-like attachment to make the shredder's slot more accessible. The hopper is made of durable sheet metal and attaches easily to the paper shredder with Velcro.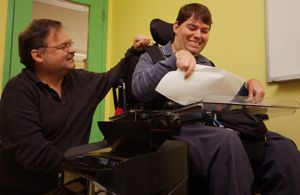 "The final hopper was designed in contrasting colours – red on the inside and black on the outside," says Mike (shown in the photo at the top of this page, on the left). "Because of Paul's limited vision, it was important to incorporate colour variations so that he can easily see where to put the paper. This feature, along with a larger opening width, enables Paul to insert paper into the shredder easily and at the correct angle."
Paul is all smiles as he shreds paper without constant supervision. Even when he accidently puts multiple sheets of paper into the shredder, the machine continues to function.
"Paul wants to be a help to us, and we want that for him," says Doug Murton, Paul's caretaker. "This new shredding hopper will let Paul do his job without one of us needing to be available for ongoing help."
As Paul resumes his favourite task with the help of the hopper, his infectious laughter and radiant smile brighten the centre. The only problem now is finding enough paper to keep Paul and the accessible paper shredder busy!
(This technology was delivered in September 2010.)

Go to CanAssist's Video Gallery to view more technology videos.



Go to Top