Barber Chair Customization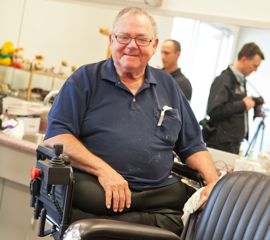 What is it?
CanAssist's engineering team developed a one-of-a-kind barber chair for a B.C. man who had lost both his legs and was unable to effectively work. The chair includes a motorized seat that enables the user to sit alongside customers, circle them as he cuts their hair, raise himself almost four feet off the ground to achieve varying cutting angles, and transfer to his wheelchair when he's done.
Key features
traditional style chair
power chair that could move in all directions around user's client
utility bags to hold barber tools
stops to keep chair from going too far
backup battery system
Who is it for?
The Barber Chair was designed for a professional who has difficulty standing while cutting hair.
---
Bob's story
For more than 40 years, Robert Egely was a fixture in the Okanagan town of Enderby, cutting residents' hair in his barbershop. But in 2010, following medical complications that resulted in the amputation of both legs, Bob reluctantly hung up his clippers.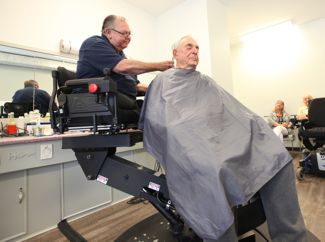 Then, in the spring of 2012, Bob received a high-tech, customized barber chair that has allowed him to put up a barber pole and open shop again.
Developed by CanAssist, the one-of-a-kind chair includes a motorized seat that enables Bob to sit alongside customers, circle them as he cuts their hair, raise himself almost four feet off the ground to achieve varying cutting angles, and transfer to his wheelchair when he's done.
"The chair allows Bob to travel almost 360 degrees around his client and to move well away from the client when he's ready to dismount," says Brandon Fry, a member of the engineering team that developed the device. "He can also move up and down, depending on the height of each client."
To make this functionality possible, engineers installed two electronic motors and a hydraulic lift. One of the motors enables the barber's chair to circle the customer; another motor powers the chair's in-and-out movement; and the hydraulic lift raises the seat up and down, as needed. The chair's large flat base is made of heavy steel and is bolted to the floor, ensuring the chair stays safely in position. The chair has other safety features, including sensors that ensure it only operates if it's in a safe position.
Several members of CanAssist's engineering team travelled to Enderby to install the chair in Bob's new shop and to watch as the barber serves his first customer – a gentleman in his 90s, who has been waiting for the moment when "Bob the Barber," as he's known around town, returns to work.
"Being able to get back to being a barber, and to work again, gives me a sense of having a purpose again," says Bob, who is 67 and has no intention of slowing down.
Funding for Bob's new chair was provided through the Equipment and Assistive Technology Initiative (EATI), a program supported by the federal and BC governments that helps people with disabilities achieve their employment-related goals.

"Working with Robert on this project really opened our eyes to the fact that assistive technology comes in many different shapes and forms," said Wendy Cox of BC Personal Supports Network, which oversees the EATI.
"We are so pleased and excited to be a part of this and look forward to following Robert on his continued journey through independence and employment."
Read articles about the delivery of the customized barber chair to Bob in Enderby in the Globe and Mail and the Victoria Times-Colonist.
NOTE: The University of Victoria is deeply saddened to learn of the passing on Nov. 7, 2012, of Robert Egely, known to many as Bob the Barber. "I will never forget the second lease on life that you gave to my dad," Egely's daughter, Nicole Semkiw, wrote to CanAssist. "I know my dad was so happy and thankful to have gotten back to being a barber again." "Working with this good-humoured and tenacious gentleman was a delight and an honour for our team," says Tanya Switucka, CanAssist's client relations manager. "Because of Bob's amazing story and accompanying technology, we have received several queries from individuals with similar needs."

Go to CanAssist's Video Gallery to view more technology videos.
Go to Top