Freestanding Book Holder
Michael Forrest's life changed after an accident and stroke left the right side of his body partially paralyzed. No longer as physically active as he once was, Michael became an avid reader.
While his enthusiasm for his new hobby kept him reading for hours at a time, it also meant his left arm had to hold and turn the pages of the book for hours too.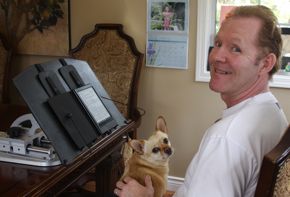 Excited by Michael's determination, Tricia, Michael's occupational therapist, referred him to CanAssist in the hope of finding a supporting device for his books. Michael had been a successful candidate before through the CanAssist-WorkSafeBC initiative, receiving a modified lawn mower that he used on his Cowichan Bay property.
Brandon Fry, a member of CanAssist's mechanical engineering team, was selected to create a book holder (shown standing in the photo at the top of this page). The book holder needed to fulfill two functions: to be able to hold the book independently of the reader and to be adjustable with the use of only one hand.
So, Brandon created an aluminum book holder that stands independently on a table or desktop without the use of a clamp.
"For it to accomplish this without damaging the table or flipping over, it needed to be properly weighted," Brandon says. "It needed to be heavy, but not too heavy to lift."
The new book holder has two linear bearings that enable Michael to slide the book closer or farther away from him, as well as to adjust the height and angle of the book. The design of the book holder ensures that these personal adjustments can be made with one hand.
Now Michael can stay in his warm, sunny room at home with his two dogs and read for as long as he wants. At last, reading is an enjoyable and relaxing activity instead of a physical challenge.
(Michael also received a customized armrest, which he uses with the book holder.)
Go to CanAssist's Video Gallery to view more technology videos.
Go to Top