Keyboard Support Stand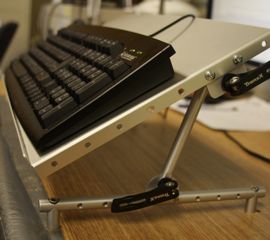 Between working as a research assistant in CanAssist's software lab and completing his computer science degree at Camosun College, Dan Spelt logs many, many hours of screen time each week.
Dan, who has cerebral palsy, uses his mouth and lips to type. But using a keyboard lying flat on a desk means that Dan must work at a very awkward angle – constantly bending his neck to reach the keys, then straining to see what he has written on the screen. Not only is this extremely uncomfortable, it also means more work for him.
Several years ago, CanAssist's Darcy Lane developed a customized Keyboard Support Stand for Dan. Darcy made one stand for use in Dan's home and a second for his parents' house, where he sometimes stays on weekends. But until now, Dan didn't have a keyboard stand for his workplace.
Thanks to funding from the Vancouver Foundation, Mike Jackman, a member of CanAssist's mechanical engineering team, was able to make an additional keyboard support for Dan to use at work.
The stand's platform has quick-release fasteners that allow easy adjustments in height and angle. A narrow metal lip prevents the keyboard from sliding off, while the stand itself has been bolted to Dan's desk so it doesn't move around.
"The new keyboard support is working perfectly for Dan," says Mike. "We lifted and rotated his keyboard so it is much closer to his face. Now it requires much less effort for him to use."
As for Dan, doing his job just got easier.
"I don't get a sore neck anymore," says Dan. "And now I can stay on the computer as long as I want – which is a lot!"
(The most recent keyboard support was delivered May 2011.)
Go to Top