Polecam Power Chair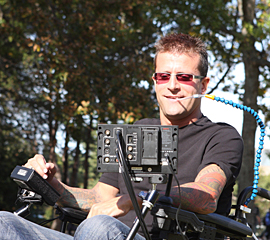 Videographers with physical disabilities can now shoot professional-quality video footage that might require up to three videographers to obtain, thanks to an extraordinary new device from CanAssist.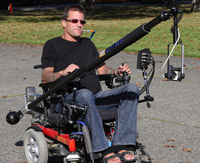 The Polecam Power Chair, which allows users to keep pace with people and objects in motion, takes advantage of the heavy and stable characteristics of power wheelchairs and the precise joystick control typical of experienced powerchair users. This technology provides users with disabilities with the tools necessary to take their first steps in becoming professional videographers and enables those who have suffered injuries to continue in their careers.
CanAssist engineers have outfitted a power wheelchair with an eight-foot Polecam boom arm and a pan-tilt mechanism. A joystick controls the pan-tilt movement of a high-definition camera mounted at the end of the Polecam boom. The boom arm is raised or lowered with a mouth-activated sip-and-puff device, allowing the camera to traverse an arc, the highest point of which is more than six feet above the ground. A high-definition LCD monitor attached to the power chair provides the user with a live view of the shoot.
A proficient wheelchair user, such as demonstrator Cory Parsons, can manage the three functions simultaneously. Cory, who is quadriplegic and paralyzed from the chest down, uses his right hand to control the chair's movement. At the same time, he uses his left hand to manipulate the joystick that adjusts the camera's angle. He changes the camera's height by using the sip-and-puff device.
The perspectives made possible by this unique and powerful device are highly appealing. In fact, users might very well be able to create footage that would be difficult to obtain using conventional video camera systems.
"I think this device provides a wonderful opportunity to showcase what a person with a disability sees in a day," said Cory. "And it could provide a cost-savings to the film industry, by doing the work of three people at once."
CanAssist adapted the equipment following a request from Vancouver documentary filmmaker Joe Moulins. Joe, who has directed films for the National Film Board, asked CanAssist to develop a wheelchair-mounted camera system for possible use by the broadcasting and filmmaking industries.
British company Polecam generously provided the required video equipment. Polecam was established in 1998 by extreme sports cameraman-director Steffan Hewitt. While directing a series of commercials in Hawaii, Steffan needed to obtain close wide-angle front sequences of a windsurfer in action, shot from a tracking boat or jet ski. The result was the Polecam, which CanAssist has now modified for people with special needs.


Go to CanAssist's Video Gallery to view more technology videos.
Go to Top