Portable Document Stand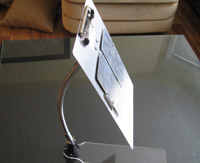 Luke Melchior is a compelling and confident speaker. In his position with Muscular Dystrophy Canada, Luke travels locally and across the country, speaking to school-aged children to raise awareness about disabilities.
Luke has a severe form of Muscular Dystrophy and is typically in his wheelchair when giving presentations. Unable to use a podium, the professional speaker constructed a makeshift document holder from cardboard and drinking straws to hold his notes upright on his lap. Although an inventive solution, it was neither sturdy nor portable enough for his travelling engagements. After hearing about CanAssist, Luke contacted the team to find out if we could build a portable document stand for him.
In response, CanAssist created a document stand with a simple yet elegant design. Its plexiglass base slides easily between the cushion and metal frame of a wheelchair and is held firmly in place by the weight of the person sitting in the chair. A flexible gooseneck arm adjusts the angle of the attached clipboard, which features a clamp that can hold loose pages in place or keep a booklet open. The clipboard also has flaps that extend horizontally to display two pages at a time.
Luke was impressed with CanAssist's design.
"Now I am able to look professional, as opposed to how it looked when I used cardboard and straws in front of an audience," says Luke, who lives in Victoria. "I can focus on what I am saying rather than on worrying about my speech falling off my lap."
Being able to tilt the clipboard to the perfect angle and have it sitting at the correct distance from his body are especially appreciated features because they allow Luke to glance down at his notes and look back toward his audience with ease.
"He can move around to face the people in the audience with the speech holder," says Kayla, Luke's wife. "It makes it easier for him to interact with them."
His speeches acknowledge both the real challenges faced by those with special needs and the great successes they can achieve. Luke, whose life illustrates how a person can far surpass the expectations that others have held for him, is an inspiration both to those with disabilities and to everyone trying to reach their goals.
At the end of a speech, the document holder is quickly slipped out from his wheelchair and packed away into a bag for transportation. Luke now takes his portable document stand along to all his presentations, providing him with extra convenience and ease during his informative and inspiring talks.
(This technology was first delivered in January 2009.)
---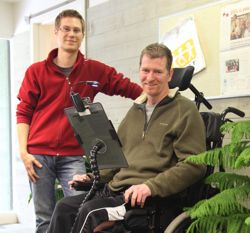 We developed an updated version of the Portable Document Stand in 2010 for another client. Trevor, who was severely injured while on a mission in Afghanistan, is using a customized document stand while speaking to audiences about his injury and rehabilitation. Read the story...
Go to Top