Customized document stand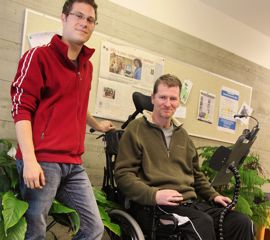 Trevor Greene's deployment to Afghanistan was a unique mission. As a part of a civilian-military initiative, his focus was to rebuild villages. Trevor, a former journalist, embarked on his first international peacekeeping mission in 2006. His fiancée, Debbie, and baby daughter, Grace, waited for his return.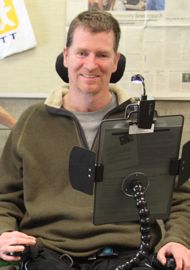 During his tour, Trevor was attacked with an axe. He was struck in the head; the impact nearly split his brain in half.
Miraculously he survived, but suffered serious brain damage. Today, after four years of personal determination, immeasurable support from Debbie and intense rehabilitation, Trevor is enjoying his new career – public speaking.
Trevor's speeches were going very well; however, he could not use a podium because it blocked audiences from seeing him. Instead, Debbie would stand beside him and hold his speaking notes.
Trevor wanted to give his speeches independently and CanAssist had the right device for the job.
Trevor heard about CanAssist through his speech therapist, Lesley Catto. She knew that CanAssist had created a portable document stand for another client. However, because his height is 6'3", the stand had to be redesigned to suit his needs.
Brandon Fry, a member of CanAssist's engineering team, redesigned the original concept.
"It was important that the portable document stand be strong enough to support its length, as well as flexible to allow adjustments." says Brandon.
The result was a flexible, multi-jointed stand. The stand also features enough surface area for two pieces of paper, clips to hold them in place, and a reading light.
Trevor's customized document holder has given him added independence as he shares his story. He was also the subject of a CTV documentary called Peace Warrior.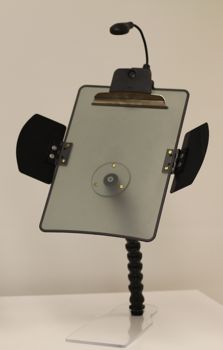 "The document holder is a godsend," says Trevor. "Last month I gave a speech in Comox to 120 people. For the first time, I didn't have to hunch over squinting at notes in my lap. I was able to adjust the angle of my notes to be in the perfect line of sight. I am so grateful the team at CanAssist was able to make the document holder in time for my speech. It has increased my independence and presentation skills."
Trevor's condition continues to improve. His goal is to walk down the aisle on July 21st, 2010 when he marries Debbie.
(Trevor received this device in June 2010)

Go to Top