Workstation for the Bedroom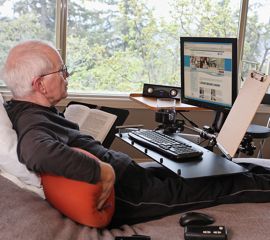 What is it?
A workstation was customized to be used in bed by a client living in at home with multiple sclerosis to replace a makeshift workstation that was uncomfortable to use.

Key features
workstation is mounted on large caster wheels so it is easy to move toward and away from the bed
fully adjustable keyboard tray
multiple attachments for cup holder, clipboard, etc.
extendable book holder
sturdy lower shelf holds heavy textbooks

Who is it for?
Highly customized computer set up for a particular client's unique requirements.
---
David's story
David Norton is a former professor, an active academic and an expert on the philosopher David Hume, about whom he recently published a two- volume set for Oxford University Press. David's accomplishments are especially impressive considering he has lived with multiple sclerosis for the past 30 years.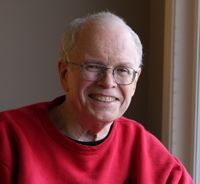 Due to his disability, as well as the frequent pain and discomfort that result from it, David must do his writing and research in a reclined position.
Before he approached CanAssist, he was using a standard workstation that perched over his bed and a makeshift computer stand. But the unit wasn't mobile or solid enough and couldn't be positioned close enough to his body. In addition, there was no space for office supplies and nowhere to put a book or notes. He didn't even have a place for his cup of water.
"This was a fairly simple project but it took a while to complete because we had to figure out exactly what David needed before making the appropriate modifications," says Scott, of CanAssist's mechanical engineering team. "He wanted something more modern, more permanent, more functional and something that looked a bit better."
Scott met with David to discuss the project in detail before developing a solution. In the end, he selected a Star Base workstation and began customizing it to meet David's specific needs.
The new keyboard tray that comes with the Star Base angles downward and is fully adjustable, so David doesn't have to hold the keyboard on his lap anymore. Scott put the workstation on large caster whee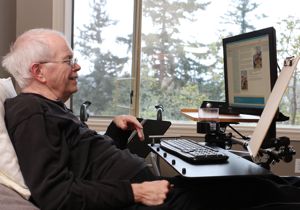 ls so it could be moved easily toward and away from the bed. He also added a handle, which allows David to adjust where the keyboard tray and shelves are positioned independently of the unit's base.
An extendable book holder, which can be folded out of the way, was added, along with a wooden shelf that matches the furniture in David's room. This is where David stores audio speakers, tape, a stapler and other items.
A lower shelf was upgraded so the unit could sit closer to the bed and be strong enough to hold heavy textbooks. Finally, a custom-made cupholder was created to hold David's large easy-grip cup, which he needs nearby so he can take his medication.
"This is the first time that I've worked on a project for an older client," says Scott. "He ended up making my job easier in the end because he knew exactly what he wanted."
David, who was once the editor of the McGill University Press, was delighted when CanAssist delivered the new unit. He now has his notes, computer, books and beverage within reach. The workstation is professional-looking and sturdy as well as being very mobile.
"A short note to let you know that the workstation is working beautifully," David wrote in a message to Scott shortly after the workstation was delivered.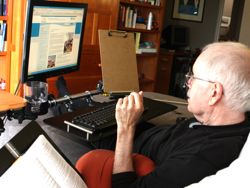 "One especially helpful addition is the grab bar you attached at the left end of the table. That little piece makes it easy to put the whole unit where I want it."
Because of the comfort the new unit affords, David is now considering taking on another research project.
"To make a long story short, you recommended a well-constructed unit, and then made some smart and helpful modifications," David wrote. "The project was well thought out and well done. Thank you very much."
(This technology was delivered in April 2010.)
Go to Top