Adapted Rocking Horse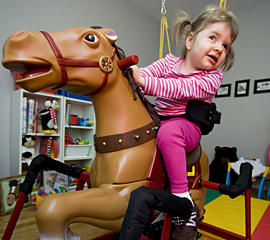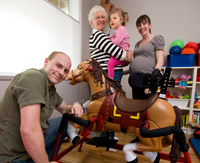 Mya's smile lights up the room as she sits on her modified Radio Flyer for the first time.
The Radio Flyer is a brand of rocking horse that children have been riding for years. But this particular horse has been specially adapted to meet Mya's needs, allowing her to gallop to her heart's content, safely and independently.
The energetic five year old has Microdysgenesis, a condition that makes it difficult for her to balance her upper torso. After outgrowing her favorite rocking horse, which had an integrated baby seat to stabilize her upper body, Mya's family looked for a bigger horse. However, they discovered that larger rocking horses did not provide her with enough torso support.
A recommendation from an occupational therapist at the Queen Alexandra Centre for Children's Health led the family to CanAssist. Our engineers worked with Mya's parents to choose a new Radio Flyer that could be modified.
Once the horse was chosen, we began building a torso support system that would be placed securely on top of the new toy. The new seating system included a higher backrest, safety belt, footrests and lateral support,which can be adjusted as Mya grows.
"It's great to be able to work on a project that will stay with Mya as she grows bigger," says Nigel Webb, a mechanical engineering co-op student who worked on the project for CanAssist.
Mya took instant delight in her new toy.
"It was awesome," says Lisa Pearce, Mya's mother. "It is really nice, not just for her, but also for all of us to be able to give her some independence with her movements."

(This technology was delivered in February 2009.)

Go to Top