Fishing Systems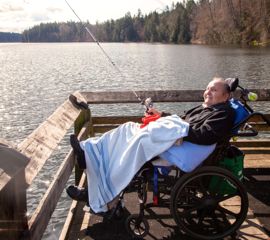 What is it?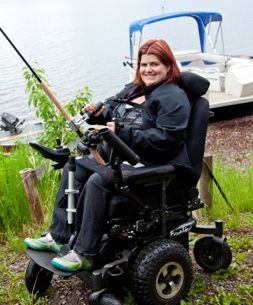 CanAssist's accessible fishing devices are rod holders that mount onto wheelchairs, allowing clients to fish independently using only one hand. While mounted to the chair, the rod can be rotated to a vertical position to enable the user to change lures and unhook fish. The rod can then be rotated forward into the fishing position. To cast, the client removes the rod from the holder and casts. The client then replaces the rod in the holder and is able to reel in.
Key features
allows an individual to fish using only one arm
holds the rod in vertical position to allow lure exchange or tilt position for reeling
user's leg, arm or another part of the body can be used to release the line for casting
Who is it for?
Fishing systems have been designed for CanAssist clients who are unable to use a standard two-handed fishing system, using their wheelchair for mounting.
---
Mark's story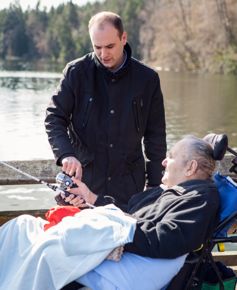 Mark relies on a wheelchair for mobility following a stroke that affected the left side of his body. Mark uses his right arm and hand and is able to complete many tasks related to his self-care. However, while Mark was an avid fisherman before his stroke, the limited strength and mobility in his upper body mean he has been unable to fish independently since his injury. (See photos of Mark to the left and at the top left corner of this web page.)
When CanAssist first met Mark, we learned that he hoped to increase the number of recreational activities in which he could participate – and fishing was at the top of his list. This activity not only gives Mark the ability to access a cherished pastime but also increases his exposure to the outdoors, which had been lacking since he had the stroke.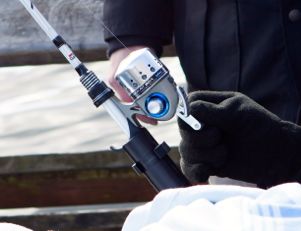 In response to Mark's request, CanAssist developed a one-handed fishing system, which takes advantage of the retiree's strength and range of motion in his right hand and arm. CanAssist engineers developed a rod holder and mounted it to Mark's wheelchair. The system allows the fishing rod to be easily rotated to a vertical position so Mark can change lures. It can then be rotated forward to the fishing position. To cast, Mark simply removes the rod from the holder and replaces it when he is ready to reel in his catch.
Mark is a social man, and fishing provides an effective social outlet for him to re-engage with friends from his past. It is anticipated that being able to participate in fishing again will increase Mark's overall sense of inclusion, health and well-being.
Go to Top