Adapted Drill Press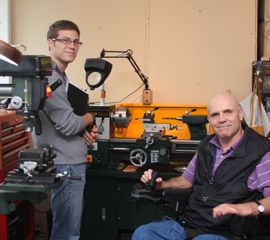 Sometimes making a very small change can make a big difference in a person's life. This was certainly the case when CanAssist was asked to adapt a drill press for a Parksville man who is quadriplegic.
Gerry Price uses many tools in the garage that he has converted into a workshop, where he designs and builds devices for people with disabilities.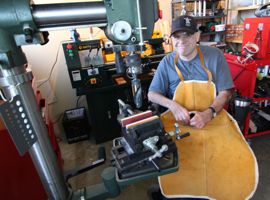 Changing the position of the table on his drill press required an enormous amount of time and energy. The drill press has a small handle that the user rotates to adjust the height of the working surface. Gerry, whose disability means he has difficulty gripping onto things, needed more leverage in order to rotate the handle.
Gerry was injured on the job in 1995 when he fell from a ladder. His request came to CanAssist through his support team at WorkSafeBC.
"Gerry had been operating the drill press by himself, but it really took a lot of effort," says Brandon Fry, of CanAssist's engineering team (shown standing in the photo at the top of this page). "Creating a larger handle for the drill press was really straightforward and made it much easier for him to use."
Brandon's solution was simple: to design a much larger easy-grip handle to replace the old smaller one. The new drill press handle is softer, turns more easily and allows Gerry to use it without hurting his shoulder or rubbing his skin on the handle end.
"I am very pleased that now I have tools that have hand grips that are easier to use," says Gerry. "I can now spend more time and have more energy to do tasks in my workshop."
CanAssist also provided Gerry with an Adapted Shop Vac.
Go to Top