Adapted Shop Vac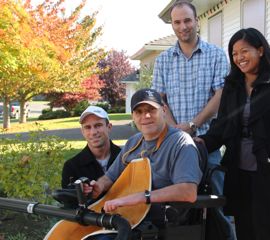 As someone who spends a great deal of time in his workshop, Gerry Price needs to be able to clean up after himself.
But the Parksville resident, who is quadriplegic, had a hard time holding onto his shop vac and changing its attachments.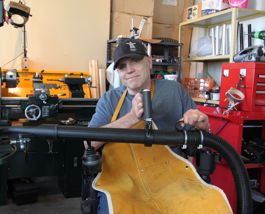 "Gerry has limited gripping strength and poor dexterity, so he had a lot of trouble maneuvering the wand and putting the shop vac's sections together," says Mike Jackman, of CanAssist's engineering team (shown standing in the photo at the top of this page).
Gerry was injured on the job in 1995 when he fell from a ladder. He was referred by his occupational therapist as a candidate for the CanAssist-WorkSafeBC initiative.
So Mike set to work, creating two additions for the shop vac: an aluminum customized handle and a smaller C-shaped brace, both which clamp onto the shop vac's wand.
The simple brace allows Gerry to force the sections of the vacuum together without having to grip them. The larger handle is cushioned and adjustable, so Gerry can find the precise angle that is comfortable for him while vacuuming.
Gerry now is able to clean up the debris in his workshop. He also can use the vacuum more easily for blowing leaves in the fall.
"I am very pleased that now I have tools that have hand grips that are easier to use," says Gerry.
CanAssist also provided Gerry with an Adapted Drill Press.


Go to Top