Firewood Loading System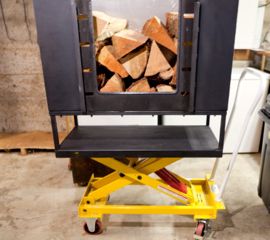 What is it?
The Firewood Loading System is a customized wood bin mounted on a commercial self-leveling trolley. It changes height automatically as the amount of wood in the bin lowers, limiting the need for the user to bend down to reach into the bottom of the bin. The firewood loading system makes it easier for people with limited mobility to collect and transport firewood.
Key features
Keeps wood at waist height to allow user to pick up wood without bending down
Mounted on wheels to allow easy transport of wood from truck to storage
Wheels have brakes for added safety and stability
Robust materials for industrial-type tasks
No motor; the self-leveling is accomplished with spring tension and shocks
Sliding plastic (Lexan) door allows easy access to wood
Durable bin made of steel and aluminum
Who is it for?
Anyone with mobility problems, such as difficulties with bending, reaching and lifting.
Go to Top