Lawn Mower Adaptation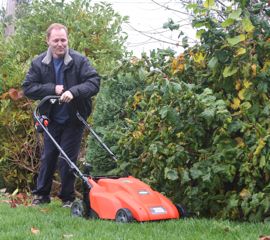 What is it?
A modified mower that can be operated with the use of one hand.
Key features
adapted battery-powered, light-weight mower
can be controlled easily
can be turned off and on safely using one hand
Who is it for?
For people who are unable to operate a lawnmower using both hands without
compromising their safety.
---
Michael's story
Following an injury at a construction site and a stroke, Michael Forrest has worked very hard at his rehabilitation.
While Michael has made great progress, the right side of his body remains severely compromised, preventing him from doing many outdoor tasks. Michael very much wanted to contribute to the upkeep of his property in Cowichan Bay. In particular, he wanted to take on the work of mowing the lawn – he just needed a mower that would work for him.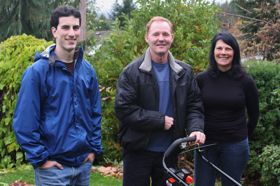 So Michael's occupational therapist referred him as a candidate for the CanAssist- WorkSafeBC initiative.
Mike Lewis, a co-op student with CanAssist, approached Michael's request with two main objectives. The first was to find a lawn mower that Michael could push with one hand. He wanted to avoid gas-powered mowers, which are too heavy and require refilling with fuel, along with electric mowers with long cords. Instead, he opted for a lighter, cordless, battery-powered mower and had Michael come to CanAssist to try it. He was able to maneuver it comfortably right away.
"As soon as he started pushing the lawnmower on the grass in front of the CanAssist building, he had a big grin on his face," Mike recalls.
Mike's second mission involved finding a way to adapt the lawnmower so that Michael could start it with one hand without compromising safety: this particular mower only starts if the safety button and kill-switch bar are activated simultaneously, which requires both hands.
Mike's solution was to transfer access to the safety button to the top of the mower's handle. He also designed a metal bar that protrudes from the mower's handle to hold the kill switch in place.
"The device I made prevents the kill switch from being pulled and starting the lawn mower accidentally," Mike says. "With one hand, the button can be pushed down and the kill switch can be activated, which starts the lawn mower."
Now Michael has taken on the responsibility of mowing the lawn, which his wife, Deborah, had been doing since his injury.
"Mowing the lawn may not seem like a big deal to most of us, however for Michael, it means so much!" Deborah told the CanAssist team when we delivered the mower.
"It is part of being a man, being a guy. He can just go out there like the other guys on his street and take care of his own front yard. That was taken away from him when he hurt himself. It's a big day for him."
Go to CanAssist's Video Gallery to view more technology videos.
Go to Top