Tree Trimmer Customization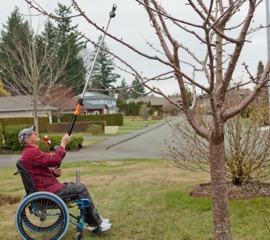 What is it?
A telescoping pole was used in conjunction with a modified commercial pruner to enable a client to trim the branches of his fruit trees. A sturdy, customized bracket supports the pole's weight and attaches to his wheelchair.
Key features
trimmer pole slides into a socket, which is held by a sturdy mounting plate
ball joint allows the device to move easily in all directions
enables easy transport of device using a wheelchair
Who is it for?
A person who uses a wheelchair and would like to prune trees.
Go to Top