Modified Scooter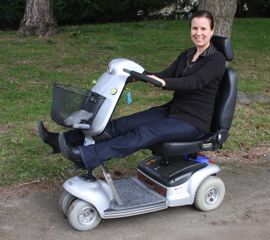 For many people with mobility challenges, having an electric-powered scooter means enjoying a sense of freedom and independence.
This was how one young woman living in Victoria expected to feel when she applied through her health-care support system to receive a scooter that would increase her ability to get around. However, her hopes were short-lived when she discovered that her new scooter's chair-like position caused sharp pain in her legs.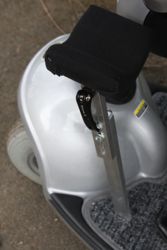 The woman suffers from acute porphyria and small fiber neuropathy, which can cause muscle pain, seizures, weakness and numbness. The seated position caused her knees to bend at a 90-degree angle, exacerbating her condition and rendering her scooter painful to use.
After watching a segment about CanAssist on Shaw TV, the young woman contacted us requesting assistance. She wanted to use her scooter with her legs in an elevated position.
Scott, a member of CanAssist's mechanical engineering team, took on her request and began developing adjustable leg supports for the scooter.
In order to make enough room for the leg supports, Scott first raised the scooter's steering pivot joint. By adding an extension joint, the front valence was raised approximately five inches, allowing lots of leg room.
"The final product supports the client's legs with two padded half-pipe-shaped holders," says Scott. "These are attached to the frame of the scooter, so they won't interfere with steering. They're also adjustable in height and angle to provide a custom fit and comfort."
Thanks to Scott's modifications, our client now enjoys the freedom and independence she had anticipated, so that activities such as shopping and riding the bus are comfortable and easily achieved.
(This technology was delivered in June 2009.)
(The photo at the top of this page features
Amy, a member of the CanAssist team, demonstrating the Modified Scooter
.)


Go to Top