Rear-Controlled Power Trike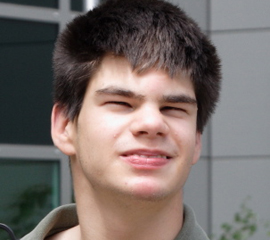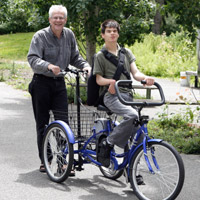 Oliver is a gentle, easygoing 15-year-old, who loves physical activities, such as riding a bike, and tactile sensations, like feeling the wind in his face.
When CanAssist staff visited him recently, Ollie was in his rock garden, running his hands through a collection of smooth stones while his caregiver, Jeremy, played the guitar.
"Oliver is possibly the happiest individual I have ever met," Jeremy told us later.
Cerebral palsy and Autism Spectrum Disorder have affected Oliver's life in both profound and simple ways. Although he is fit and healthy, coordination and strength limitations make it challenging for him to enjoy many activities.
Until Oliver was a teenager, his parents were able to help him ride a manual adult tricycle, providing steering assistance, support and push power. But as he got older, his size and weight made it increasingly difficult for anyone to keep him steady and push from behind. In fact, by the time the family approached CanAssist, Oliver had tremendous difficulty ascending hills, even with the help of both parents.
Oliver's father, Michael, asked CanAssist if we could modify an electric adult trike to suit his son's unique needs. Michael hoped that with the assistance of an electric motor, Ollie would be able to climb even the most challenging hills.
"We designed a steering column with handles that include the brakes and throttle," Ryan, a CanAssist engineer, explains. "So the parent or caregiver can walk behind the trike and do all the steering and braking while Oliver can sit up front and pedal."
The trike's original seat was replaced with a highback, along with a four-point harness for extra support. Another new feature is a swiveling seat, which turns 90 degrees, allowing for ease in mounting the bike, a task that was challenging when the seat was facing permanently forward. Foot plates were added so Oliver's feet could be secured with straps.
Oliver has been a great sport about transitioning to his new bicycle. Even when he becomes concerned about riding a new bike, all it takes is a silly sound - like a fake sneeze from his dad- and he's all smiles again.
Michael says the new bike has greatly increased Ollie's independence.
"It allows us to go wherever we'd like," says Michael. "Besides, it looks great!"
(This technology was delivered in July 2009.)

Go to Top