Reclining Wheelchair Support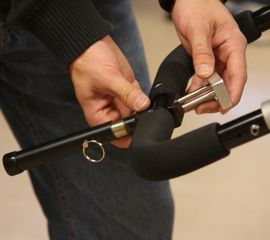 Jenna Croft is a lovely, light-spirited 13-year-old who has cerebral palsy, as well as other conditions that make it necessary for her to travel extensively for her medical care.
Caring for Jenna is physically quite intensive, requiring a lot of heavy lifting on a daily basis. Being Jenna's primary caregiver means her mom, Gillian, helps her use the lavatory – an especially difficult task when they are away from home.
Jenna's wheelchair is equipped with a commode seat that fits underneath the chair's seat cushion. Until recently, Gillian has had to lift Jenna and slide the seat cushion out from under her all at once. This involved much awkward lifting and positioning for both Jenna and Gillian – and often required finding another helper or chair.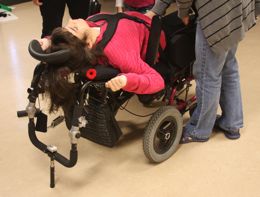 "It involved trying to slip everything off a child whose legs are way longer than the reach of my arm, and support her 94 pounds with just one arm while the other did the rest," says Gillian.
Recel Fajardo-Jardine, Jenna's occupational therapist from Queen Alexandra Centre for Children's Health referred Gillian to CanAssist. After meeting with the family, Mike Lewis, a co-op student working with CanAssist's engineering team, set to work designing the Reclining Wheelchair Support (for Commode).
The device is a detachable support that connects to the handle on the back of Jenna's wheelchair. This steel arm allows the wheelchair to tilt back so that it is fully reclined and supported. Jenna can then lie back comfortably in the wheelchair while her legs are lifted and the cushion is removed.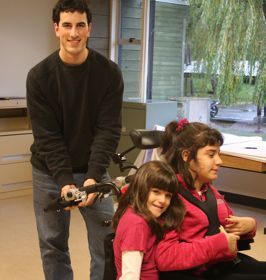 "Without the support device, Jenna's mom would have to hold the wheelchair in a reclined position," Mike says. He also designed a protective case so the caregiver doesn't have to touch the section that comes in contact with the floor. The Reclining Wheelchair Support makes the whole process easier and more comfortable, and it means that it is no longer necessary for another person or extra chair to be involved.
As Recel notes, it's not just the traveling that is improved, but also Jenna's ability to be active in the outside world.
"This adaptation enables Jenna's parents and caregivers to safely and easily take care of Jenna's personal needs while they are out and about in the community," says Recel. "The result is a more active and happy Jenna."
Gillian told us that the device is getting used on outings and even in unexpected situations, such as sitting in a reclined position during a dental checkup.

A recent trip to the music conservatory proved the value of the device.
"Today I could just lay her down in the chair," Gillian wrote to us when she got home. "Yay for my back!!! WHAT a difference!"
Go to Top