Walker Handle Modification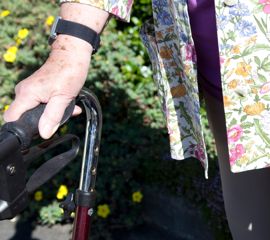 Being 92 years old wasn't holding Jean Rundle back from having an active lifestyle, but her walker was.
Jean still enjoyed getting out into the community to shop and meet with friends, but arthritis made it painful for her to grip the handles on her walker. Without the ability to use her walker, Jean was stuck at home.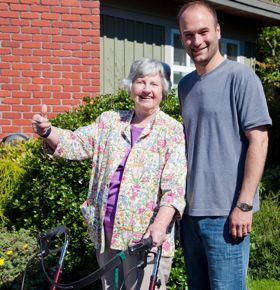 So her daughter, Julie, who works at the University of Victoria, suggested she ask CanAssist for help.
"Jean's arthritis made it difficult for her to curl her thumbs around the walker's handlebars," Mike Jackman, of CanAssist's mechanical engineering team, explains. "But holding her thumbs straight out was also causing unnecessary strain."
So CanAssist bought special rubber handle grips from a local medical equipment store. The new handles had a critical feature: a fin that protrudes where Jean could rest her thumbs.
Mike modified the new grips so they would fit on Jean's walker and then placed them in a position so her hands could rest comfortably.
"It's a very small modification, but it really made a world of difference to Jean," says Mike.
On delivery day, it was clear that Jean was thrilled with the results.
"It's perfect! That's where my thumbs should be!" she said. To show just how happy her thumbs were with the new arrangement, Jean gave everyone a big thumbs up.
Go to Top