BatSwinger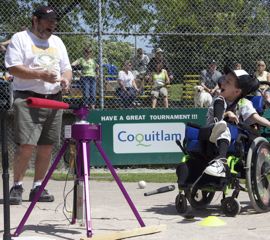 Key features:
Allows people with a range of disabilities to swing a baseball bat independently
Controlled by a single accessibility switch
Powered by compressed carbon dioxide
Includes several safety features
| | | | | |
| --- | --- | --- | --- | --- |
| | | | | Read a story about how Shannon is using this technology. |
---
Shannon's story

Shannon Bromley loves playing T-Ball. The 17-year-old delights in being out on the ball diamond, with the fans cheering and the sun shining on her face. She loves the feeling that comes from being part of a team.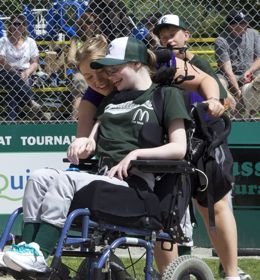 Until recently, the teenager from New Westminster always needed help when batting during games. Members of her Challenger baseball league have a range of physical and cognitive disabilities that make it difficult or impossible for some of them to swing a bat on their own. Typically a parent or other adult holds the bat for them and places their hand over their child's.
But as of this spring, Shannon, who has Atypical Angelman Syndrome and travels by wheelchair, has become responsible for swinging the bat all by herself.
Thanks to a generous contribution from an anonymous donor, CanAssist engineering staff were able to develop a safe, automated bat-swinging device that would give Shannon, along with those of her teammates who also need assistance, the chance to have autonomy as to when and where they hit the ball.
The CanAssist BatSwinger is a recreational device that swings and hits baseballs from a tee. CanAssist created an earlier prototype that relied on a mechanical spring to propel the ball. This latest version is powered by compressed carbon dioxide and can be activated simply by pressing a button - an important consideration for many kids with challenging disabilities. The device also has several safety features.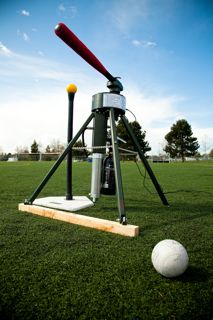 The exciting unveiling of the BatSwinger took place at a game on May 15, 2010, in Coquitlam, B.C. Shannon wheeled over to the device and patiently waited until she had everyone's undivided attention. At just the right moment, she pressed a big switch that swings the bat, which in turn sent the ball soaring into the sky.
Of course, the crowd went wild.
Shannon broke into a big grin under her ball cap, while her caregiver grabbed the handles of her wheelchair and began pushing her around the bases.
"We love the BatSwinger," said Kathy Bromley, Shannon's mom, who originally approached CanAssist with the idea of the automated device. "And with the Baseball Jamboree coming up next weekend, Shannon will be able to swing away and show off her batting skills."
Another boy on the team named Kit also uses the BatSwinger, and loves the power he has when using the device. Even those kids who are able to swing the bat by themselves wanted to try the cool batting machine.
"This was the first time we delivered the BatSwinger to a team for use during a game, so it was really exciting for us too," said Scott, a member of CanAssist's engineering team. "We'll be providing devices for ongoing use to this team and one other."
On the same day, a team from Surrey also received its own BatSwinger. The delivery was the result of a request that came from a woman whose two children have disabilities and participate on a local Challenger T-Ball team. CanAssist team members who made the delivery said the device was just as big a hit as the one given to Shannon's team.
"Thanks so much," Shannon's mom wrote recently to us in a letter. "Your work really does change lives!"
Go to CanAssist's Video Gallery to view more technology videos.
---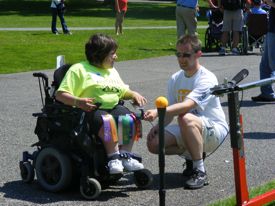 Read the story about the original version of the BatSwinger, which was used by athletes at Operation Trackshoes.

Go to Top