Bicycle Pedal Modification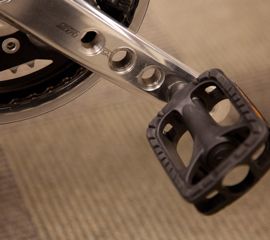 When Gerey Parker was 16, it must have felt as though life had skipped forward several decades. It was at this young age that she was diagnosed with rheumatoid arthritis. Early on, the condition forced her to stop riding a bicycle. Later, it meant a knee and hip replacement. But Gerey has always adapted to whatever circumstances life brought her way.
Gerey and her boyfriend, Rod, live in Richmond, where there are extensive biking trails, but Gerey was not getting out riding at all. "My daughter just turned 30 and I have never been on a bike with my kids," Gerey said, in reference to how long it had been since she had been on a bike.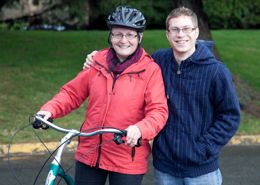 This was hard for Gerey, as she is an adventurous woman who loves the outdoors. But then a former CanAssist employee, Ryan Truant, who is now a member of her medical support team, encouraged Gerey to get in touch with us. Getting back on a bike suddenly looked possible.
One of the main reasons Gerey had difficulty riding a bicycle, was that she could not fully extend her leg, nor bend it as far back as a regular bicycle demanded. Brandon Fry, of CanAssist's mechanical engineering team, designed a simple pedal modification so Gerey could ride comfortably within her range of motion.
"In order to get rid of the bending motion, we changed the length of the crank," Brandon says. The crank is the piece of metal the bicycle pedal attaches to, and Gerey's legs couldn't bend as much as a traditional crank required.
"I made the existing crank on her bike adjustable by drilling holes along the length of the crank about every one inch," Brandon says. That way, as Gerey adjusted to riding, she could also adjust the pedals on either side to suit her needs.
Because many of Gerey's other joints are affected by rheumatoid arthritis, she was accompanied by Sandra Hundza, a researcher and consultant in motor rehabilitation therapies at CanAssist, to pick out the most suitable parts for her new bike, such as the proper handlebars for her wrists and the most supportive seat. Gerey was excited to choose her new bike, and adamant that her new rig not look different from anyone else's.
This simple pedal modification has made cycling possible for Gerey, though getting on and off the bike seems to still be a bit of a challenge. But Gerey keeps a sense of humour about herself.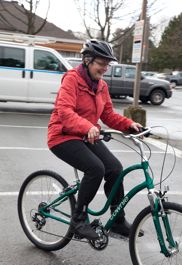 "They say you never forget how to ride a bike, but it also seems you might forget how to stop and dismount!" she jokes.
It's probably that ability to get back up on her bike after a few bumps in the road that explains how she has made it so far. "With the great weather recently we had three good rides, also one on Sunday was an hour ride!!!" she wrote to us.
For Gerey, life is definitely moving forward. And now that she's equipped with a new bicycle fitted with a special pedal modification, she's moving with the ease and speed of a 16-year-old again.
Go to Top