Modified Recumbent Stepper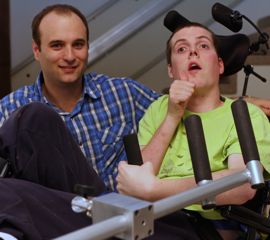 No one appreciates the benefits of exercising more than former elite triathlete Sean Marlowe.
Much of Sean's life was dedicated to fitness and taking his body to the extreme. In 2004 Sean sustained a brain injury that left him partially paralyzed. After his injury, it was clear that his need to push his physical abilities was not being fulfilled. He tried exercising on therapeutic equipment, but none delivered the vigorous cardio workout that his body craved. As well, conventional workout equipment did not provide adequate support for Sean's head, torso and feet.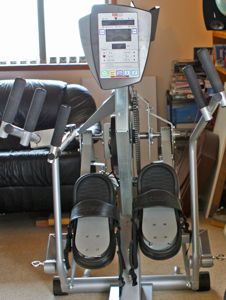 Sean and his family had previously been in touch with CanAssist to assist with Sean's communication. We were happy to welcome them back and take on this new challenge!
It was important that Sean be able to exercise in a semi-reclined position which naturally allows full-body support. Initially, a rowing machine seemed a good option. Then Victoria's Aloyd Fitness directed us to the SciFit Recumbent Stepper.
Mike Jackman, a member of CanAssist's mechanical engineering team, made several modifications to ensure the stepper would properly support Sean during his workout.
Like many SciFit products, the Recumbent Stepper was designed with elements to support disabled users. For example, the Recumbent Stepper's chair was easily removed to make way for Sean's wheelchair.
To keep the wheelchair firmly in place, Mike fashioned a restraining apparatus with eyebolts and tie-down straps which attached the wheelchair to the machine. This modification ensures
Sean's workouts are not disrupted by his wheelchair's movements.
Adjustable wedges were added to both pedals as well as additional straps to secure Sean's feet. Sean's feet are constantly pointed as though he were pushing down on a vehicle's gas pedal. The wedges provide an angled platform to keep Sean's feet in place. The angle can be decreased as Sean's muscles readapt through exercise.
Because Sean's left arm is less mobile than his right, Mike created an additional handlebar positioned lower and closer to the body.
"This handle modification offers Sean a range of motion better suited to his abilities," says Mike (who appears in the photo at the top of this page next to Sean, who is using the machine). "As the pole moves away from him, the new handle extends and rotates while offering resistance through the use of springs. This allows both arms to be exercised without risk of injury to his left arm."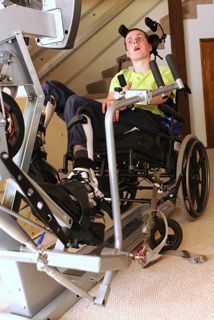 Mike also altered the machine's gear ratio, making it easier for Sean to overcome the machine's start-up resistance, which is caused by trying to bring the large moving components up to speed. Just like a bicycle, it is easier to start the machine on a lower gear.
"Prior to having this device and having lived in a wheelchair and his bed, Sean was unable to 'work up a sweat,' ever. This activity is incredibly important to him," says Cherith, Sean's mother.
"Sean loves the device! He works at it feverishly, just like when he was a training athlete. He stops to catch his breath and then carries on. It is wonderful and joyful to watch him do what he loves best! It allows Sean to regain a part of his life that has been absent since his injury six long years ago."
Sean is now able to use the stepper to get a total body workout. And thanks to the modifications, Sean is supported and safe from injury as he not only reaps the many benefits of a good cardio workout, but once again enjoys pushing himself to new heights.
(This technology was delivered in April 2010.)
Go to Top