Wii Board for Wheelchair Users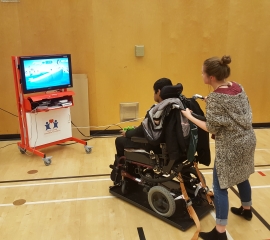 What is it?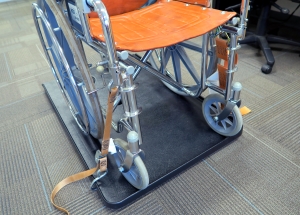 The Wii Board for Wheelchair Users allows individuals to safely enjoy Wii games and Wii Fit while seated in their wheelchairs. CanAssist modified a commercial device that fits on top of the Wii Balance Board, called the Vivify Floor-Board, to give users more control and to prevent their wheelchairs from sliding. The modified board features sturdy straps to keep the user's wheelchair securely in place. Since a standard Wii Balance Board is not large enough for wheelchair users, the larger platform allows individuals to control Wii games by shifting their weight while seated in their wheelchairs.
Key features
large, stable platform is wide enough for a wheelchair
sturdy safety straps keep the wheelchair securely in place
users can make body-shifting movements to navigate games
Who is it for?
This device is for wheelchair users who wish to participate in Wii games. Primarily, the device has been used by children in health facilities who use wheelchairs and have limited upper body mobility. Using the board has several benefits for users: it gives kids the opportunity to improve their mobility in a wheelchair by encouraging them to extend their body outside the chair's frame; it helps them to strengthen their core and get their heart rate up; and it leads to an increased sense of inclusion for the child who is able to play exciting, interactive games alongside peers and family members.
Go to Top