Gesture-Controlled Music Project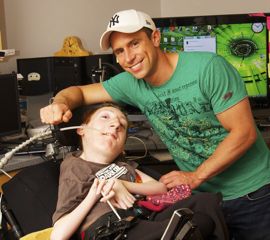 The Gesture-Controlled Music Project is a system that adapts to the movement capability of the musician, allowing them to use comfortable actions to create music. The system uses the same motion-capture technology as Nintendo's Wii remote, and is encased in an unobtrusive, light-weight package. This system is designed for versatility. One person can play their favorite song by nodding their head, while another can play by rolling an ankle. All of the processing and sound generation tasks are done on any PC or Apple computer, and the software interface is set up for easy use by caregivers and musical therapists. This project will be the first musical instrument specifically designed to meet the needs of individuals with very limited movement ability and will ensure that even users with the smallest range of movement can play a familiar song.
For information on related projects, please see our
research section
.
Go to Top