Strummer for Lap Steel Guitar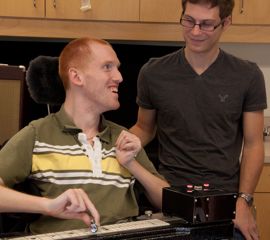 Dustin Smith takes every opportunity to find outlets for his passion for music.
Outgoing and personable, Dustin meets with local musicians, sings at jam sessions in Victoria-area venues and generally does whatever he can to involve himself in the city's music scene.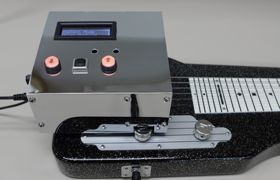 Although Dustin participates by singing, having cerebral palsy and being able to use only one hand reliably means he hasn't been able to pursue his dream of playing the guitar. So earlier this year, Dustin and his support worker approached CanAssist to see if there was a way for the young man to play guitar independently.
"In our past guitar projects, we found that adapting a regular guitar was very difficult," says Brandon Fry, a member of CanAssist's engineering team and a guitar player himself. "So we finally decided to use a lap steel guitar."
A lap steel guitar, typically used for genres such as blues and country, sits in the player's lap. Pitch is changed by pressing a metal bar against the strings. Tom Lee Music, a store in Langford, donated a lap steel guitar for the project for Dustin.
Rather than altering the guitar itself, Brandon – along with colleagues Peter McGuire, an electrical specialist, and co-op student Ken Von Schilling – developed a programmable Guitar Strummer, a stationary steel box that sits on top of the instrument. Inside the box, a small motor drives a strumming mechanism – a plastic belt embedded with three picks that move across the strings.
The box also contains a computer chip that allows Dustin to choose from three modes:
manual: enables immediate, single strumming;
record: allows Dustin to record a particular strumming pattern (essentially, the rhythm); and
playback: activates the recorded strumming pattern while Dustin plays the notes.
Dustin controls the Guitar Strummer by using his less dexterous left hand to operate an attached accessibility switch (such as the squeeze switch shown in the photo above or a large button switch). Activating the switch allows Dustin to program the rhythm of a piece of music. Switching modes, he can play back this rhythm while he selects the correct notes with the metal slide.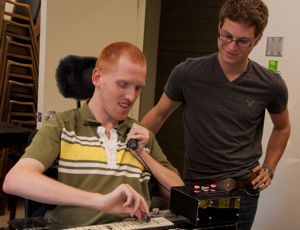 Brandon says one of the most difficult aspects of developing the Guitar Strummer was finding a way to eliminate the electronic interference caused when the strummer's motor was placed close to the guitar pickup. The electric guitar pickup is built to detect very small magnetic changes caused by the vibrating strings of the guitar. Because the strummer's motor has a series of spinning magnets, positioning the two together resulted in a loud humming noise from the guitar's amplifier speaker.
The solution was the creation of a steel case, which shields the motor's interference from the guitar's pickup.
On delivery day, Dustin was clearly thrilled to receive his new adapted guitar. Since then, he has begun taking guitar lessons and has even planned a small concert to be held at Tom Lee Music, when he feels he is ready.
"I knew from the moment I met Dustin that he has a gift with music – he already has a very sharp ear for music and knows what he wants to play, but doesn't understand yet how to do it," says Ian McHale, Dustin's music teacher.
"CanAssist has provided him with his dream instrument and now he gets to enjoy the rest of his life trying to figure it out and share his gift with others."
---
Funding for this project was provided by two sources: Equipment and Assistive Technology Initiative (EATI) which is provided through BC Personal Supports Networks, and an anonymous donation made through the Victoria Foundation.
The following video was produced by Shaw TV:
Go to CanAssist's Video Gallery to view more technology videos.
Go to Top