Piano Pedal Extender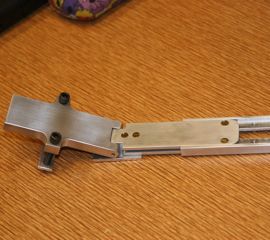 A young man named Stefan contacted CanAssist when he was undertaking a Master's degree in piano performance at UBC. Stefan has extremely limited ankle movement as a result of having Spina Bifida. He also has long arms and is unable to stretch his right leg out very far. The situation makes it impossible for him to reach the piano pedals without having his body and hands positioned uncomfortably close to the keys. To sit at a normal distance from the instrument, he needed a device that would extend horizontally from the base of the piano.
"There are a lot of vertical extensions on the market," says Darcy Lane, CanAssist's Hardware Manager. Most of these, he explains, have been developed for children who are not yet tall enough to reach the pedals. "But there was nothing we could find on the market for a horizontal extension."
So CanAssist built a metal horizontal extension of the piano pedal that operates using a hinging action. Now, Stefan simply pushes down on his new extension pedal to activate the piano pedal, whenever the notes he's playing need to be sustained. The pedal extender can be easily attached to any piano.

The following is an except from a letter of thanks Stefan sent to us:
"I would like to thank you for the wonderful pedal extension with which you have provided me. It has made a crucial difference in my ability to play the piano with far greater ease and comfort than ever previously. I plan on showing this device to my professors here at UBC. I have mentioned to them the work you have done and they are thrilled that an organization such as yours exists. I am both thrilled and extremely grateful. This past week I have been using it to practice at my parents' house and have noticed a dramatic improvement in my playing. I attribute this improvement to the pedal extension which as I say has afforded me an amazing degree of physical ease in playing the piano."
(This technology was delivered in 2005.)
Go to Top