Funders & Employers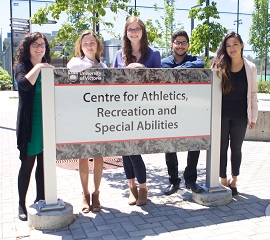 TeenWork benefits enormously from the generosity of our funding partners and from businesses and organizations that become TeenWork employers. We deeply appreciate their contributions and the critical role they play in helping us to provide this innovative program for teens with special needs. Together we are making our communities stronger and more inclusive.
Funding partners
TeenWork is made possible through funding from the following very generous supporters;
CanAssist greatly appreciates their contribution:
The group-based TeenWork stream is funded by the Government of Canada's Skills Link Program.

---
Current TeenWork employers
The following is a list of businesses that currently employ a TeenWork participant. We thank each of these community leaders for making an important contribution to the teens, their families and our society as a whole:
Past TeenWork employers
The following is a list of businesses that have employed a TeenWork participant in the past:
Beacon Community Services Thrift Store, Pandora Ave.
Dollarama, Langford
Fairway Market, Oak Bay Avenue
Lush Cosmetics, Hillside Mall
Marquise Group, Facilities at The Bay Centre Mall
McDonalds, Cedar Hill Cross Road
McDonalds, Millstream Road
Oak Bay Pharmasave, Oak Bay Ave.

Old Navy, Tillicum Mall
Red Barn Market, Vanalman Ave.
Save-On-Foods, Tillicum
Slegg Lumber, Keating Cross Road
Subway Restaurant, Fort & Foul Bay
Sweet Treats for Charity
Thrifty Foods, Admirals Walk
Thrifty Foods, Broadmead
Thrifty Foods, Cloverdale
Tim Hortons, Royal Oak
Tim Hortons, West Saanich Road
University of Victoria, Office of Research Services
Walmart Supercentre, Uptown Mall
Go to Top